Mural, Mural, On the Wall
      After returning from winter break, many students were surprised to find the age-old lions had vanished from Foran's walls. The school logo, accompanied by motivational quotes from Ralph Waldo Emerson and Maya Angelou, have taken the lions' place outside the Literacy Center. Additionally, Brutus the Lion is now pictured in the previously empty space outside the School Counseling office.
     As years passed, time had taken a toll on the mural's quality. Principal Mr. Max Berkowitz cites the wall art's fading condition prompted administration to advocate for an update.
     "We are always looking to keep the hallways of Foran looking sharp.  It was time for a change," explains Berkowitz.
     Contrary to popular belief, the original mural on the second floor was not hand-painted. Instead, a company sealed a banner imitating the look of paint to the wall. The same process was used to replace the lion mural over winter break.
     Since the old mural had become so familiar to Foran's community, many lament the loss of the lions.
     Writing tutor Ms. Jill Dion states, "I had gotten so used to seeing the lions outside the Lit Center that I think it might take me a while to get used to the new one." 
     Dion is not alone; many students, especially upperclassmen, had grown accustomed to being greeted by the landscape at the end of yellow hall.
     "The lions portrayed more school spirit than the new murals. They felt more at home," says senior Veda Lakkamraju. 
     Members of the Foran community are still adjusting to the change, and some are more welcoming of the update than others. 
     Mrs. Jaclyn DeLoma, media specialist, says the mural's new message is much more impactful than the old painting. She further explains the renovation makes the walls stand out more than they did before.
     DeLoma states, "From the design and colors to the quotes, [the new mural] is eye-catching and creates a more profound statement for our student body."
     The chosen quotes from Maya Angelou and Ralph Waldo Emerson are meant to be inspirational, thought provoking, and positive messages that everyone would appreciate, according to Berkowitz.
     Sophomore Grace Mrsich agrees and says, "I've seen them around and I think it's nice that they spread positive messages around the school."
     Berkowitz, along with the Foran administration, believes everyone wants to have pride in the way their school looks.
     The replacement of outdated murals boosts Foran pride and makes students and faculty feel positive about their school environment. 
     While change may take time, it's not always a bad thing, and Berkowitz hopes students will grow to love the new murals as much as he does.
Leave a Comment
About the Contributor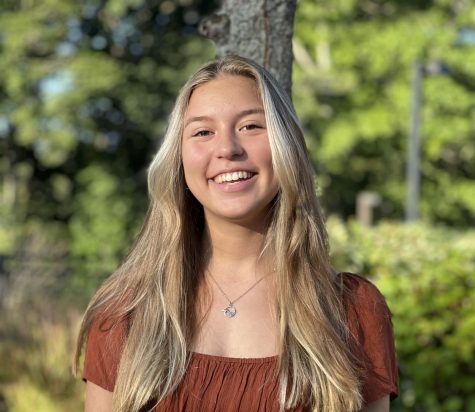 Olivia Salai, Co-Editor in Chief
Hi! I'm Olivia Salai and I'm a junior. Outside of journalism, I'm choir president and my class's vice president as well as an active member of...