Stepping into Success
A Look into Irish Step Dance
     Connecticut is home to many cultures and customs that embrace diversity of artistic expression. With St. Patrick's Day coming up, Irish culture and its customs, especially in the United States, is more prominent than ever. 
     The ways in which Irish step dancing continues to diversify and broaden across many different communities is becoming more recognized. Especially in communities outside of Ireland, this dance is performed and celebrated.
     The rich history of Irish step dance plays a crucial role in the culture of both Ireland and the world. Originating as a Celtic custom, pagan traditions of circular celebration started the trend of Irish dancing. As civilizations evolve, so do these traditions.
     According to Tap Roots: The Early History of Tap Dancing by Mark Knowles, "Celtic dances were ring or circle dances, and since the Celts were tree worshippers, the dances often revolved around trees or maypoles."
     Though these religious traditions were only a fraction of the path to modern step dance, many of the aspects known today were accumulated from a variety of customs.
     The way modern Irish step dance is known today can be traced back to the 15th century British Isles.  
     "Many aspects of more modern Irish dancing can be directly traced to the Gypsies who migrated to the British Isles around the 15th century. These nomadic people brought with them dances that they had assimilated from various cultures that had encountered in their travels," states Knowles.
     With this past being engraved in modern-day Irish step dancing, the dancers who participate in the long-lasting tradition learn a thing or two about the history behind it. 
     Freshman dancer Devon Hines expresses how Irish step dancing connects people to history.
     Hines states, "My family is a few generations removed, so at this point no one speaks the language, or remembers much about our roots like family recipes etc… So to me, Irish dancing helps me learn about and feel connected to my culture. I can learn dances that are hundreds of years old, and listen to my dance teacher's stories of how my dance school came to be, which at this point I've memorized." 
     Aside from history, Irish step dancing is also a lively activity today. With many step dancing schools within the area, a community around this style of dance has risen. 
     These dancers are able to learn and grow in this art, as well as gain knowledge of both the history and the techniques of the dances. 
     "I like how much you can get out of it. Some people hear it and immediately think of the competitions, so like the big hair pieces and the sparkly dresses. And while that's some people's cup of tea, others love the performing aspect of it, the times when it's just you and the other dancers performing in nursing homes or at parades to bring joy to the general public," Hines comments. 
     Having dedication to a sport/activity requires opening up to new opportunities and experiences. Hines also shares about her journey being a dancer as well as an influence on other dancers. 
     "What being a dancer means is constantly evolving too. When I was younger it was all about recitals and learning the basics, but now that I'm older, it's about being an example and even going after certification to be a Registered Teaching Assistant. Throughout all phases of it, I have taken something different and I hope that the younger dancers I teach will have nothing but a similar experience," Hines expresses. 
     These dancers form a community based on this rich history and the skills picked up since then. For a dancer, it takes devotion and technique in order to learn new dances.
     Sophomore dancer Kelly Aspras explains the ins and outs of the technique and movements of Irish dance.
     "In Irish dance, there are hard shoe and soft shoe dances. The soft shoe dances are Light Jig, Reel, Slip Jig, Hop/Single Jig. Hard shoe dances are Hornpipe, Treble Jig, Treble Reel, or Traditional sets. Some examples of traditional sets are St. Patrick's Day, Jockey, or Black Bird. Traditional set means every school does it pretty much the same way. All the dances are based on a Reel or a Jig for the most part. Every dance school has different steps that their teacher has made up. That's why in competitions everyone has different steps," Aspras explains. 
     While there might be struggles and difficulties while practicing and perfecting techniques, there are also thrills. Hines discusses the gratifying aspects of being an Irish dancer.
     "One of the most rewarding times of the year for me is our performing season, which is really the month of March. Minus a pandemic, our dance school is usually asked to perform in over 70 shows in the span of a few weeks. Meaning that anyone that is available will divide and conquer and dance all over," Hines states.
     As March is introduced, St. Patrick's Day also welcomes other Irish traditions. Irish dancers prep their techniques and their sparkly costumes and prepare to spread culture and customs for all to experience.
Leave a Comment
Donate to the mane street mirror
Your donation will support the student journalists of Foran High School. Your contribution will allow us to purchase equipment and cover our annual website hosting costs.
About the Contributor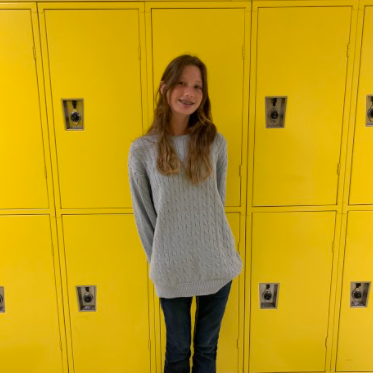 Gracie Brogan, Staff Writer
     Hi, My name is Gracie Brogan. I'm a freshman at Foran. I like to spend my time reading, writing, and listening to music. My favorite subjects...