Senioritis: Second Semester Struggles
          Senioritis has begun to plague high schools across the nation as the end of the year approaches and seniors prepare to graduate. After four years of hard work, many senior's academic motivation begins to fade as their senior year comes to an end. 
          Senioritis is defined as "an ebbing of motivation and effort by school seniors as evidenced by tardiness, absences and lower grades," by Marium-Webster Dictionary.
          Some of the many symptoms of senioritis are low energy, severe procrastination, repeated tardiness and lack of concern for grades. These symptoms come from a general feeling of being "done" with high school. 
          Foran math teacher Ms. Blanchard says, "As we go into the fourth quarter I notice my seniors turning more of their work in late, and generally putting less effort into their assignments." This lack of motivation and effort usually results in lower grades. Although this may not seem important after already committing to a college,these grades and lessons still matter. 
          New York University counseling program director, Lisa Suzuki explains, "it is critical that students continue to stay engaged in school to learn critical life skills needed for success in college and create exciting and fun memories of the end of the high school years." Important life lessons that can be used through college and life will be learned through the end of senior year. Missing out on these lessons can be detrimental to a student's college experience or future career. 
          Many athletes who commit to colleges earlier in their high school career may feel senioritis earlier than most. Although these athletes are more motivated due to the possibility of losing scholarships or athletic positions if their grades drop. 
          Senior Luca Ubaldi, who committed to college early in his senior year states, "It's easy to sit back and fall behind on work, but I have stayed motivated and am trying hard to finish the year strong in order to stay ready for next year."
          While there is no "cure" for senioritis, getting through the end of senior year is all about motivation and a positive attitude. Approaching the second semester with a positive mindset and reaching out to guidance counselors and advisors for resources are great ways to avoid this senior plague. 
          With the end of the year only weeks away, it is crucial that seniors stay focused and motivated in order to stay on the right track for college and life after high school.
Leave a Comment
About the Contributor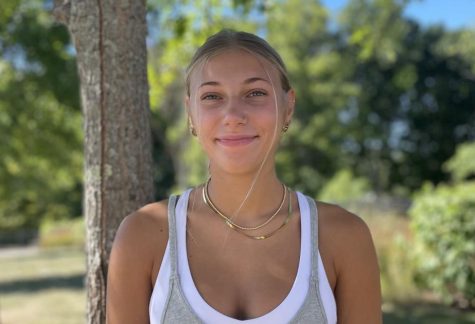 Ginger Schmidt, Content Editor
Hi, my name is Ginger Schmidt and I am a senior. This is my second year writing for the Mane Street Mirror. I am the captain of my school's gymnastics...