A School Year In Review
Looking Back at Foran High's 2021-22 Academic Year
          In the past three years, Foran High School has seen a whirlwind of change in response to the Covid-19 pandemic, and the 2021-22 school year was no different. This school year featured a long-awaited return to normalcy and incredible moments in athletics, extracurriculars and student achievement from August all the way to this June. 
          August: The final days of August mark the beginning of the academic year, the introduction of a new freshman class, and the welcome of new faculty. This year, Foran welcomed the 195 students comprising the class of 2025, and eight new faculty members. Mr. Eric Bailey is among Foran's new faculty, teaching Health Education to the Sophomore and Junior classes.  
          "Coming into a new school is always a little uneasy even for teachers and staff.  This is the third high school that I've worked at in one form or another, and I found it to be a really welcoming place by the teachers, students, and staff," says Bailey.
          September: Following the first days back, students and faculty found themselves amping up for the first football game of the 2021 season. The student section was a blur of yellow; students gathered to celebrate not only the first kick-off, but also united to raise money for Alex's Lemonade Stand, a foundation raising money and awareness for childhood cancer. 
          In the weeks prior, Mrs. Farrell and her journalism students volunteered their time to cut out lemons, create fliers, and collect donations in advance. Overall, Foran was able to raise over $1,800 for the cause via sales of paper lemons. 
          October: After the success of the Alex's Lemonade Stand fundraiser, Foran students and faculty were inspired to continue the spread of awareness. In honor of Breast Cancer Awareness month, the Foran community unified to raise money and spread awareness.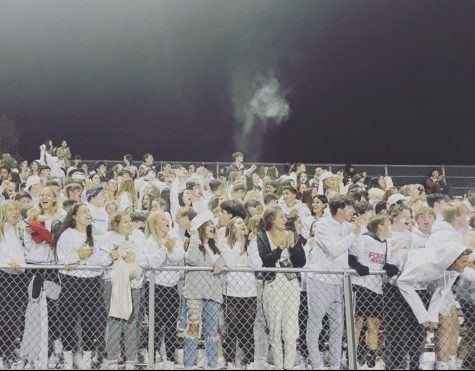 On October 22, students packed the stands of the student section for Foran's home game, covered head to toe in pink, and raised a total of $500.79.
          The month of October welcomed the fall season and Halloween,  and at the same time students were excited for the Homecoming dance, which took place Oct. 28. Though the dance was slightly less conventional than previous years, students thoroughly enjoyed the event! 
          "The dance was so much fun, I had such a great time," says Junior Kaitlin Dobkowski, Foran's 2021 Homecoming Queen. 
          November: As Foran's football season began to approach its end, students were excited as ever for the upcoming powderpuff game. On Nov. 22, Lions and Lawmen gathered to watch Junior and Senior girls face off in a classic game of flag football. Decked out in ski attire, Foran students packed the stands to cheer on the team.
          In addition, Foran held a fall pep rally on Nov. 24, featuring a color war competition between classes. Hosted by fall athletics, classes competed to show who had the most Foran spirit through relay races, handstand competitions, and more. After an afternoon of excitement, the Senior class was declared the winner for their unmatched Foran spirit.
          December: As the Foran community approached holiday break and the new year, celebration and spirit flooded every classroom, hallway and lounge. Advisories participated in Fa-la-la-lidays, a competition in which students decorated the doors to their advisors' rooms. After a month of preparations, Mr. Kochiss' senior advisory was victorious.
          During the final week before a long anticipated winter vacation, students and staff continued holiday celebrations with a memorable spirit week. Throughout the week, the Foran community dressed in creative outfits, including pajamas, clothing indicative of specific decades, characters, flannels, and finished off strong with holiday attire to usher in a happy break and new year. 
          January: For Foran students and staff, the new year began with excitement for the current basketball season. Just as they had for football, students flooded the student section for every home game with school spirit to cheer on the team. 
          However, while one era was beginning, another was ending: Foran had to say 'happy retirement' to Mr. Bevino. After over 40 years of teaching physical education (PE), Bevino taught his final class on January 28, and it was a bittersweet moment for students and faculty alike. 
          Foran welcomed Mr. Thomas Hair, who picked up teaching right where Mr. Bevino left. Mr. Hair is currently in his second quarter at Foran and has a very full schedule, teaching Nutrition, Peer PE, Competitive PE and two sections of PE-1. 
          According to Hair, "The students have been receptive to the change and have been helpful along the way. The adjustment feels better since I have more experience from quarter 3, engaging with more students, and being able to connect with more students and staff." 
          February: The month of February at Foran was focused on one goal: selling paper hearts for the American Heart Association. In the early days of the month, students in Mrs. Farrell's journalism classes helped cut out hundreds of paper hearts in preparation. 
          Mrs. Lisa Farrell, Journalism teacher and fundraiser advisor explains, "My husband always raises money for the American Heart Association for his physical education classes, so I wanted to contribute along with him."
          On Valentine's day, students wore red and pink to school, purchased hearts, and donated to the foundation, raising a grand total of $792.50. 
          March: The month of March was a time of celebration and competition. Not only was preparation for spring sports underway, but St. Patrick's Day spread spirit throughout the halls with a friendly scavenger hunt for the school to participate in. Team leaders scattered shamrocks throughout the halls, thus beginning a new school tradition. 
          Marching Band was the talk of the town following their performance at the highly anticipated St. Patrick's Day parade. Students, parents and faculty from all across town gathered on the green, decked out in green, to create a celebration for the ages. 
The month's highlight was the beginning of 'dance season' with the Sophomore ring dance. On March 25, the sophomore class gathered at Grassy Hill Country Club for a night of fun.
          April: Foran spirit was at an all time high in preparation for the spring pep rally. In celebration of Easter and the upcoming April break, students were in for a week of tropics and endless colors. From gray day to red-white-and-blue day, students snapped pictures to prove their school spirit, and earn points for their class. 
          On the final day, the classes competed in color wars, in addition to an egg hunt. Students raced the halls in search of paper eggs, and 7 prestigious golden eggs. Following a pep rally presented by spring athletics, the Junior's were declared the winners.
          At the end of an exciting month, the Junior class gathered for their Semi-Formal dance. The dance took place on April 29, at Vazzano's Four Seasons, and was a night full of song, dance and celebration.
          May: In May, students face their final full month of the school year, and it is a time of big change. The month of May is also a very busy one, and is filled with important dates and events.
          The first of the month marks National College Decision Day, the deadline for Seniors to declare their commitment to their intended university. On May 2, seniors came to school wearing attire representing their future school, and teachers flaunted their alma mater. 
          In addition, the first two weeks of May are considered to be the most stressful weeks of the year for some students. Between May 2 and 13, students taking Advanced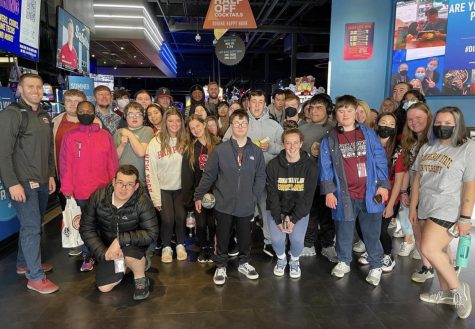 Placement (AP) courses are stressing and studying in preparation for their exams. 
          According to Mr. Tupka, Foran's AP European History and AP Macroeconomics  teacher, "AP exams are so stressful [because]… Students are being asked to show their knowledge of an entire course on a timed exam with tight parameters."
          AP exam weeks are undoubtedly stressful for students, however, it marks the end of an AP course, and is something to be proud of. 
          "As stressful as it is, remember that by mid-May, the exams are behind you!" says Tupka. 
          The height of the month, however, was the highly anticipated Senior Prom. 
          Senior Isabella Mema says, "Prom was a great experience! It was fun to gather as a class and create memories we can look back on for years to come."
          On May 20, Seniors gathered at the Trumbull Marriott Hotel and danced the night away, before heading to the Shelton Sports Center for post-prom activities. 
          Mrs. Newall says, "Prom was so nice because in previous years, people tend to leave as soon as they're able. This year seniors stuck around to hang with their friends and have a fun time; the DJ was fun, everyone and everything looked amazing, and it was just an overall great night."
          June: As the final month of school arrives, there is much to look forward to. Senior trips are approaching, sports seasons are ending, and graduation buzz is emanating. In a year where school has begun to feel more familiar, the Foran community has come together to embrace every trial and triumph that accompanies this new sense of normality. 
          While seniors are counting down the days until graduation, underclassmen are preparing for final exams; the first final exams to be taken by current 9-11th graders due to the pandemic. Students will soon be rewarded with three months of sunshine, and it is well deserved. 
Have a great summer, Foran. 
Leave a Comment
About the Contributor
Annabel Wardman, Online Editor
Hi! My name is Annabel Wardman and I am a senior here at Foran. When not busy working for the Mane Street Mirror, I enjoy sailing, reading, and spending...