How to be a Well-Rounded Student
Seniors that Shine at Foran
          Many support the theory that no one should be defined by one thing. Athletes can be great at their sports, students can be academically successful, a worker can excel at their job, yet while they may thrive in a specific area, there is always more to an individual. Students at Foran recognize this, and prioritize working on themselves in different areas of life. This includes sports, academics, jobs, volunteering, social life, etc.
          Every student at Foran is special in their own way, and the talents and different areas of intelligence are vast. Highlighting some of these students is a nod to their achievements and strong character.
          Senior Venice Montanaro is the Vice President of Book Club, Vice President of Orchestra, a Natural Helper officer; as well as a part of The Giving Table, Key Club, and Drama Club. She is one of the two representatives of Foran, serving as a liaison at Milford Board of Education meetings. Outside of school, she works at her dance studio, Lee Lund, helping to teach young girls dance, while also being a dancer herself. Montanaro also works part time at Robert Treat Farms.
          It is evident that Montanaro is a very involved individual. She prioritizes being a part of many different activities, finding it valuable to her life.
          Montanaro comments, "It is important to be involved in more than one activity so that you expand your social palate. Only being a part of one sport, or working outside of school is beneficial, but it makes a difference when you pursue your interests, and you are able to make new friends, gather new skills, and really embrace your free time."
          This lifestyle isn't applicable to all, and is certainly not always easy, as Montanaro conveys, yet staying organized and learning how to prioritize herself makes it more manageable and fun for her.
          Another senior that has worked to become a well-rounded individual is Joe Gaetano. Gaetano is the captain of the football and basketball team, and also plays baseball. He is a member of National Honors Society, Key Club and Natural Helper officer. Gaetano is also captain of the Science Olympiad  and the Robotics team. In the fall, Gaetano can be found scoring touchdowns during the Friday night football games, and on the field playing with the marching band at half time.
          Being a part of a variety of different activities and sports has allowed Gaetano to create relationships with so many different people with different interests. 
          Gaetano relays, "It's important to be involved in more than one thing at school to meet all different kinds of people and make new friends. Staying in one spot and not being involved elsewhere doesn't help you to meet new people."
          Gaetano strongly suggests joining new clubs, sports, and activities, so that you can gain experiences and new friendships.
          Senior Joseph Cichowski is another notable student, as he is on the baseball and wrestling teams. He is in the National Honor Society, Math Honors Society, and is a Natural Helper. Cichowski is also a captain of the Science Olympiad team and is a section leader in the school band. He is also in the top two of the senior class.
          Cichowski enjoys his extracurricular activities, yet notes the importance of academics. It is not to say that one has to take all of the hardest classes, rather that they should prioritize putting forth their best work.
          Cichowski adds, "I think that focusing on being a student athlete is important when it comes to managing the time commitment of these groups and their events. Although it is important to be involved and well rounded in a high school community, your school work should always come first as the other groups are extracurriculars and are meant to be fun."
          Understanding that extracurriculars should be something that brings joy is something that Cichowski wants others to realize.
Senior Liam Young is a captain of the soccer, basketball and lacrosse teams. He is a member of the National Honor Society, Key Club, Sound Lions, and Ski Club. Young volunteers with his church and spends his time strengthening the Milford Community in any way he can.
          Young appreciates the many friendships brought to him through sports, clubs, and volunteering, but he also sees it as an opportunity to explore his interests.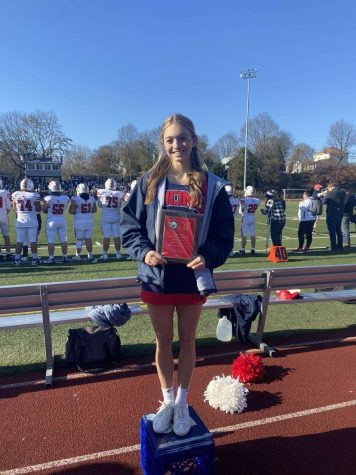 Young comments, "I think it is most important to just try new things and try to figure out what you do. Similar to the senior internships, clubs and sports are a chance to get out there and try something new with a few, or many  friends. And if someone doesn't want to commit to said activity, they can always back out without punishment."
          Knowing what is of interest and what is not can be helpful in the future when deciding future careers and paths of life.
          Senior Jonna Lord is a loved member by her peers, is captain of the cheerleading team, and works at The Plate. She volunteers with the Sound Lions Club. Lord also attends ECA for dance each day, while also having to take all of the required classes at Foran. Her friends and family know her as someone who is always working, going from school, to dance, to cheer and to work.
          Lord admits that doing so much can sometimes be a struggle, but attitudes towards activities are what can make or break a person.
          "Staying motivated is something I can find myself having trouble with while doing so many activities. Just staying positive and excited about every new day makes the experience better."
          Having this growth mindset and looking at each day as an opportunity to improve and learn something new is what Lord vocalizes. 
          Senior Shea Mahon is a cheerleader, a National Honor Society officer, and member of Sound Lions. She works at GG's Pizza and is a social media manager for a local non-profit. Mahon also volunteers for Purple Pantry twice a week and delivers food to those who need it.
          Mahon relays, "It is definitely a lot to manage! I work on the days that I don't have cheer, and other than that I complete all clubs and community service before practice."
          Time management is key when it comes to being involved in many different activities. Knowing availability in one's life allows them to better keep an organized schedule.
          These students all exhibit the qualities of a well-rounded student, and their peers and teachers all attest to their ability to try something new while also being a full time student. It is important to note that each individual has their own limits, time constraints, and capabilities. It is not to say that someone needs to be in many different clubs, sports, etc. to be well rounded, rather that they make an effort to seek out new opportunities and explore their interests in multiple different ways.
Leave a Comment
About the Contributors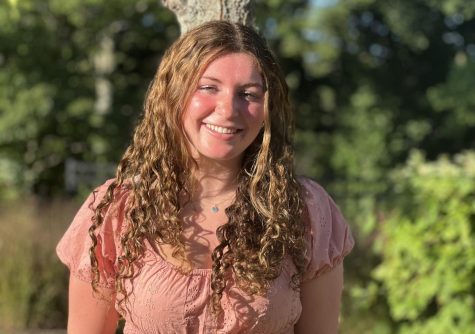 Colleen Ardolino, Staff Writer
Hi! My name is Colleen Ardolino, and I am a senior at foran. This is my second year writing articles for Mane Street Mirror. I'm captain of the girls soccer...