What's New with Newall?
A Day in the Life of a English Teacher
          The Foran English department has a vast number of teachers, one in particular being Mrs. Shauna Newall. Between teaching classes and being a senior class advisor, and after having a baby in August 2021, there has been a lot of change in her personal life.
          Newall's love for teaching began at a very young age. She wanted to become an English teacher while in high school due to her love of books and working with others. 
          "English has always been my favorite subject," Newall states. "I still really love reading. I majored in English while in college and I wasn't completely sure because I was torn between teaching and public relations."
Before receiving her degree, Newall had multiple internships involving public relations. When faced with the real world of public relations, it became clear that it wasn't her passion. 
          She states, "I had an internship in public relations but when involved, I hated it."
          Newall attended college at UConn, graduating with a bachelor's degree in English, furthering her studies at Sacred Heart University graduating with a dual degree in order to become a certified teacher and graduating with a master's degree. 
          Newall states, "In order to get this degree and certification, it only took me about a year and a half so it went really quickly."
          After receiving her degree, Newall started looking for jobs in order to have a set schedule for herself. Before coming to Foran full-time in Fall of 2015, she was torn between working at Foran or Jonathan Law High School.
          She adds, "When I first started teaching, I was split between Foran and Law. I would teach at Law in the mornings and then I would come to Foran in the afternoons."
          Once settling down at Foran and having a set teaching job, Newall started to have a set schedule. She has been teaching for a total of eight years. Some of which have been split between both Foran and Jonathan Law. 
          Newall states, "Every day is pretty much completely different. My schedule is very different from what it used to be in the past."
          Newall starts her day off bright and early entering Foran. With new aspects being involved in her life, she has many more responsibilities.
          Newall tries to make fun activities or worksheets in order for students to want to learn and participate in the lesson. Many of these worksheets are review worksheets. 
          She says, "Whatever lesson I am teaching them today is always going to correspond with what we did the day before."
          One of the classes Newall teaches is Honors Humanities Social Studies and English.  She co-teaches this class alongside history teacher Mrs. Cynthia Bradford.
          Bradford has many things in common with Newall such as their young children, creating a strong bond among the two teachers.
          She states, "I really enjoy collaborating with Mrs. Newall. I think we work well as a team trying to balance both the literary and social studies aspects of Humanities in our lesson plans and assignments. We have pushed each other to come up with unique and creative ways for out students to demonstrate their learning. We also have a lot in common as we both have a young child."
          Senior Connor Nieman states,  "I like how creative Mrs. Newall was when designing our lessons and she always picked out good books for us to tie into our discussions of real-world issues."
          During these discussions, Newall would use her voice of reason to ensure that every student's opinion was heard. 
          "Mrs. Newall is a very thoughtful person and I'll always appreciate the help she gave me one-on-one," continues Nieman.
          After leaving Foran, Newall continues her schedule focusing on her home life.
          She states, "The best part of the day is definitely being able to teach the kids. The times that I'm actually teaching are my favorite compared to other responsibilities I have as a teacher such as sending emails, planning lessons, and grading." 
          While Mrs. Newall's day to day life is quite hectic, she still manages to make time for her students and give students a positive learning experience.
Leave a Comment
About the Contributor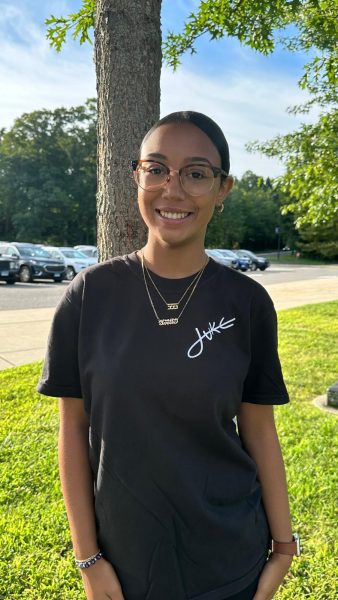 Jocelyn Gonzalez, Co-editor in Chief
Hello! My name is Jocelyn Gonzalez and I am the Co-Editor in Chief of the Mane Street Mirror and a senior at Foran. I am currently part of the Foran book...