Journalism Department Takes a Trip
Zoe Pringle
Staff Writer
Mrs Farrell's Journalism class will take a trip to SCSU Nov. 2 to refine their journalist skills for the local Mane Street Mirror Newspaper.
The annual trip takes place at Southern Connecticut State University every fall season. Schools from all over Connecticut attend, and journalists from all over New England visit to give teachers and students lessons about things ranging from editing tips to fake news analyzation. Anything that has to do with journalism can be addressed on this outside the classroom learning experience.
In the past, the trip has been a very successful helping hand to not just Foran but most high schools in Connecticut. From the time it began until this year, the number of students allowed to attend from each school has been limitless, yet that has changed. When interviewing journalism and English teacher Lisa Farrell, she explained that, "There has been no limit before and this is the year that because they are trying to make sure that they can have a lot of schools represented, that they limit it to a certain amount per each high school."  
Taking into consideration how our journalism department has grown significantly in this past year, she believes that although the trip is now limited to 25 people per school, it will still be very beneficial to those who are able to attend. Farrell says that in the past, students have been able to bring back at least one or two things learned that they have then shared with other students. The journalism department believes that this will continue to happen this year between the students that will go and those that unfortunately wont.
To understand how this trip has helped our paper in the past, I also asked Mrs. Farrell to give some specific examples of times when it did. She said, "Last year Olivia went to web design and brought up some of her ideas [in class] about what she learned [at SCSU] since she was the person putting things together on the main street mirror." She also mentioned how "Griffin went to something that had to deal with photography and he was always into taking photos so [it helped] as far as making the paper visually appealing."
Not only this, but she mentioned the significant difference in the first issue of the paper before the trip and all issues following the trip. She was adamant on how much better the newspapers were in quality after the field trip. She also included in her explanation that each year the paper has grown due to this field trip.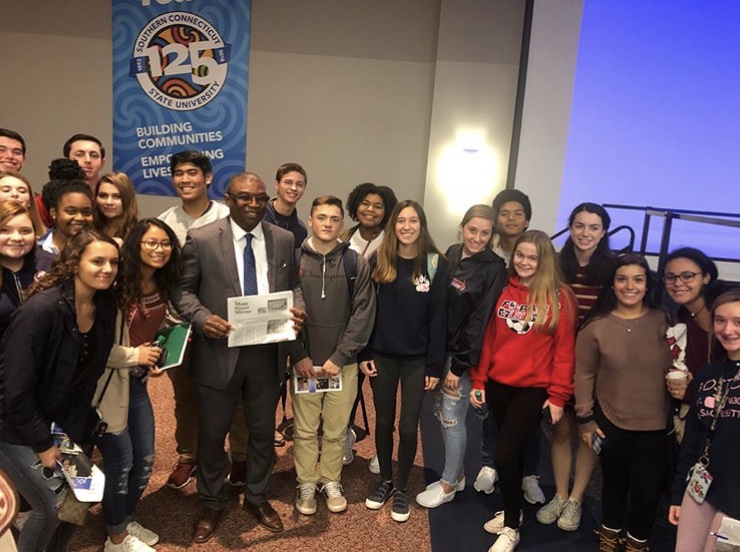 Farrell isn't the only one that has positive things to say about this field trip. Last year, a close friend and colleague of Farrell's accompanied her on the trip as a chaperone, by the name of Shauna Cassell. A fellow English teacher, she talked about how this field trip was beneficial to more than just students alone. She said that some things they taught her at SCSU she still incorporates in her teaching style today, as did Farrell. Cassel spoke of how it showed her " the importance of showing  students credible sources and being unbiased."
A student who attended last year also wanted to give their input on how the trip was for them. Lucas Burgard, a junior who is now a paper editor, shared how his experience went, "I enjoyed the trip…My favorite part was the keynote address from Laura Hutchinson from News 8…it was cool to hear about what her career and daily life is like.The workshops…provided new insights on writing and reporting techniques."
Junior Abbie Mitchell is a student who is looking forward to the trip, for she has never been before. When asked if excited and what she thinks she might gain from this experience she said, "I think I'm going to learn a lot about how to be a better journalist since I don't know much about it.  I'm also excited to be in a college setting and listen to experts talk about different topics!"
View Comments (1)