Abel Makkonen Tesfaye returns with Brilliant Album "After Hours"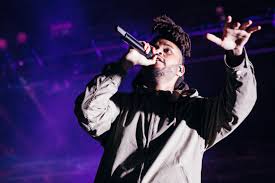 Grammy award-winning R&B performer, "The Weeknd", has become a platinum-selling, young, record artist who has completely dominated the industry. Many of his albums talk about how he has overcome obstacles and also shows a vulnerable side that has completely set him apart from other artists. 
     Abel Makkonen Tesfaye, who goes by the professional name, The Weeknd, has been compared to Pop legend Michael Jackson.  In an interview with Vanity Fair, he spoke about the impact Jackson had on him and how he was a big part of the reason he sings. With Jackson as his role model and his extreme interest in music, Tesfaye used this as inspiration to push his career forward.
     The Weeknd's latest album "After Hours" has become a fan favorite for many of his followers because it shows him embarking on a new blend of music. "After Hours" seemed to be created effortlessly and was a huge mainstream breakthrough. For example, the "After Hours" album "debuted on the Billboard 200 chart and had the biggest week of success for any album" (Billboard.com). The Weeknd's song "Blinding Lights" spent a "record 28 weeks in the top five of the Billboard Hot 100, surpassing the previous high held by Ed Sheeran with "Shape of You"(complex.com).
     Expectations were high for this album according to fans all over the world because it had been several years since he had released any new projects.
     I felt that since it took him so long, he was probably trying to create something close to perfect. I have heard his previous albums and have never been disappointed. Some of his material is relatable and raw.
     His fanbase enjoys listening to what he has to say. Nick Lawrence, a senior,  says, "It helps me cope with my emotions at times."
     Ava Abbotts, a senior, says, "I found myself playing this album over and over, and each time I noticed something I hadn't before."
     Rolling Stone Magazine summed up The Weeknd's album as "one of the smoothest cocoons he's spun" and is "filled with elegance, generosity and a mix of ambition." The album was filled with eclectic songs and a new direction. 
     His past albums such as "Trilogy" and "Beauty Behind The Madness" showed a darker side. He was struggling at the time with drug abuse which spun him into a depression. Although this was a difficult time in his life, it helped create a foundation for his path to success. 
     "After Hours" is the most vulnerable we have ever seen The Weeknd. He created a project that conveyed his emotions in a very intricate way. Between his high album sales and sold-out concerts, it shows that he has so many fans hooked on his music. He continues to reinvent himself and seems to be just getting started on his path to success.