Do You Want to Build a Snowman?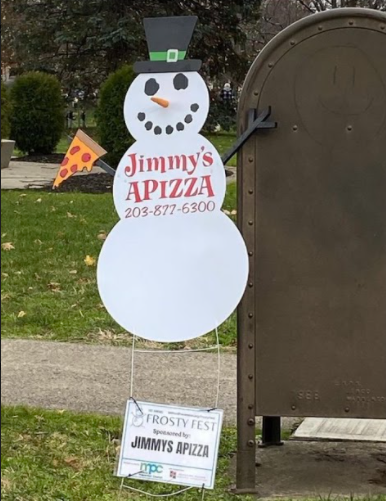 Milford Prevention Council (MPC) begins to bring cheer as the arrival of the holiday season approaches. The organization set up Frosty Fest where residents of Milford can purchase a snowman to decorate and then place onto the green downtown. The snowmen and candy canes will be displayed from Thanksgiving up until the end of December for all to enjoy.
     They started this new fundraiser this year to support small businesses in a time where many of them are suffering. Small businesses have the opportunity to purchase a small snowman to spotlight their business in the center of town for many to see. 
     The Director of Prevention Services, Wendy Gibbons, is the woman responsible for beginning this fun festive way to celebrate the holidays, while promoting small businesses who purchase one. 
     Wendy Gibbons says, ¨The Frosty Fest idea came about through our creative team, trying to come up with innovative ways to incorporate the community in the world of social distancing but still maintain the holiday spirit.¨
     Along with supporting small businesses, Frosty Fest also brings the community together in a safe, innovative way. Even if people can't physically gather together, because of this fundraiser their snowmen can. 
     Gibbons says, ¨This year for everyone is different and despite the times, we still wanted to be able to bring some type of community activity that families and businesses would enjoy.¨ 
      It is a great opportunity to support the community while raising money for the Milford Prevention Council towards substance use prevention programming for the local youth.
     These festive lawn signs can be bought and decorated by anyone. This gives the opportunity for families to purchase a snowman to decorate to celebrate as well. Once the snowman is decorated, the MPC will place it downtown on the green for everyone to enjoy. This could be an activity for families to look forward to, then seeing their masterpiece on the green could be exciting as well. 
     The goal of Frosty Fest according to Gibbons is to, "Give a little light this year where it may have been a little dim, offer an opportunity for families to do a great activity together and for businesses to create great signs, give our community some awareness about Milford Prevention Council, and for them to inquire about the great stuff that we do and plan to do."
     Businesses, organizations, or clubs may purchase one for $50. Families may purchase one for $25, $40 for two signs, or $75 for four signs. They also offer finished candy cane lawn signs for $12. 
     Sales will run from Wednesday, November 11 through Friday, December 11 at 3:00 pm. In order for the snowmen to be a part of the tree lighting, it had to have been purchased and given to MPC no later than Tuesday, Nov. 24 at 1 pm. 
     Not only will participants have their snowman displayed on the lawn, they will be featured on MPC social media outlets as well as on their website, which can be found at https://milfordprevention.org/. 
     The snowmen will be available for pick up at Parson's Government Center, 70 West River Street, from Tuesday, Nov. 17 throughout December.