Whisking into the Holiday Season; Holiday Baking Championship is Back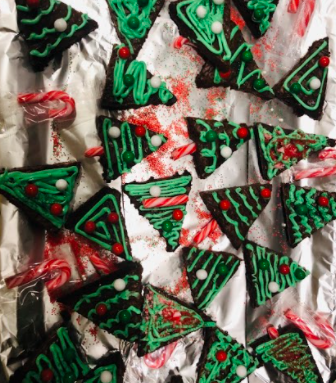 The smell of pine trees and sugar starts to fill your nose as the Christmas season arises. Families start to bake holiday desserts, sit by the TV, and watch their favorite holiday show. Holiday Baking Championship is a show on Food Network in which adults compete against one another by making some holiday treats such as cupcakes, tarts, cakes, cookies, and more.
     The television series allows the contestants, and the watchers at home, to partake in a festive and creative adventure. The show acts as an inspiration to those watching to attempt new recipes, it also boosts the holiday spirit. Many watchers are motivated to bake new sweet treats for the holidays that are soon to come.
     Courtney Musante, junior, states, "I watch the Holiday Baking Championship as a way to bond with my family, and to get into the Christmas spirit. I love the sweets and enjoy the excitement of the competition. The show inspired my family and I to bake, and has provided us with many new recipes." Musante's enjoyment for the show allows her and her family to become more creative in the kitchen.
     Coach of the Girls Swim Team and English teacher, Ms. Condon says, "The show has actually inspired my family and I to start baking, we had no idea there were so many different desserts. One of my sisters is gluten and dairy free, so now my mom and one of the other sisters, I have three, will compete to see who can make the best dessert that is gluten and dairy free. It's been fun and they've actually gotten pretty good at it." 
     Ms. Condon enjoys other holiday baking shows, such as the British Bake Off. She exclaims, "I love watching the Great British Bake Off. As my sister put it 'it's a soothing show with people being nice to one another over low stakes things' and with the added bonus of Christmas spirit, it's great. I find it very relaxing to watch and think it's awesome how kind to one another the contestants are when they compete. I started watching because my family watches it and then a student suggested it, so once we went to distance learning I wanted to find a relaxing show to escape into and it seemed like the perfect fit." Ms. Condon's amusement for the television series has inspired her and her family to create new dishes, and project holiday spirit.
     Holiday Baking Championship allows bakers around the U.S. to compete and create their own deserts that fall into the category given to them. Within the different rounds that the bakers have to go through, they have to bake confections that will impress the judges which fall into the holiday category. 
     It's a great way for families to bond and enjoy a family-friendly television show during the holiday season and influence people to start baking more Christmas desserts.