Kim Ng: Baseball's First Female General Manager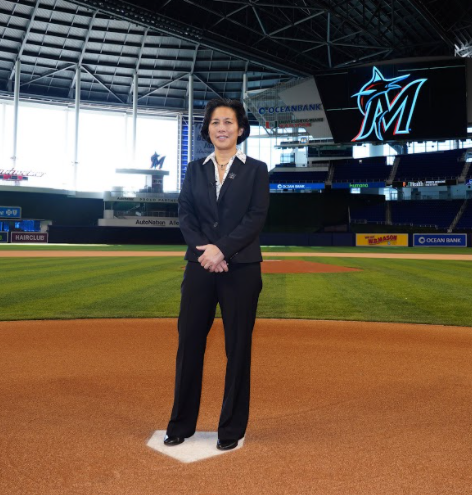 For 151 years, no one has ever seen a female general manager: until now. Out of all 30 teams in Major League Baseball, no team ever took a shot at a female being involved in a baseball team; but the Miami Marlins are taking their shot on Kim Ng. 
     Kim Ng, 52, was appointed to the general manager position for the Miami Marlins, making her the first female general manager in any men's major league team in North America. She is also only the second general manager of Asian descent in the MLB.  
     Ng has served three decades in the MLB with teams such as the Los Angeles Dodgers, the New York Yankees, and the Chicago White Sox, where she had many different positions.
     Growing up, Ng played tennis and softball in highschool. Her inspirations were Billie Jean King and Martina Navratilova. According to New York Times, Ng says she admired what they stood for and how they "changed the idea of what it looked like to be a female athlete." This drove her to compete.
     She moved on to play softball at the University of Chicago, where she was a middle infielder and captain.
     Her career started with the Chicago White Sox from the National League, where she held the Special Projects and Salary Arbitration cases. She was later promoted to Assistant Director of Baseball Operations.
     In 1997, she moved onto the American league. In 1998, Ng became the assistant General Manager of the New York Yankees under Brian Cashman, where she won numerous titles with the Yankees. 
      In 2002, she went to the Los Angeles Dodgers where she was in charge of player development. In 2011, she was appointed to Junior Vice President of Baseball Operations, where she held the position for 10 seasons.
     It's evident that she is well qualified to be a general manager for a MLB team. Derek Jeter, who is currently the CEO and part-time owner of the Miami Marlins, hired Ng. The two have had a close relationship since her work with the Yankees. Jeter comes from a mixed family and their diversity bringing diversity to the Miami Marlins staff.
     In addition to Ng, there has been progress for women within many other professional male sport leagues such as the MLB, National Football League, National Basketball Association.
     Last year, Alyssa Nakken was appointed to be an assistant coach for the San Francisco Giants. Another example is Katie Sowers, who was the assistant offensive coordinator for the San Francisco 49ers when they were in the 2019 Super Bowl. In 2014, Becky Hammon became the first full time Assistant Coach of the San Antonio Spurs.
     More recently Sarah Fuller became the first female to ever play in a Power Five college football game. She had a 30 yard kickoff against the University of Missouri Tigers. Women like these are great inspirations for years to come and have set a new standard in sports
     According to Forbes, Ng states, "When I got into this business, it seemed unlikely a woman would lead a major league team, but I am dogged in the pursuit of my goals. My goal is now to bring championship baseball to Miami."