Traditional Holiday Foods From Different Cultures
     No matter where in the world, and no matter what the holiday is, food will always have a big part in the celebration. Interestingly, traditional holiday foods vary by culture, even if the holiday itself is the same.
     In Japan, the people celebrate the New Year's holiday differently from how people in America would celebrate it. Noriko Sakai, a housewife residing in Tokyo, Japan, shares a little of how her family usually celebrates the New Year's holiday. Mrs. Sakai shares that every New Year, it is a tradition to visit a shrine or a temple to pray for a happy and blessed year, "We decorate Kagami mochi, putting mikan on top of Kagami mochi."
     Kagami mochi is a traditional New Year decoration in Japan, and until the first ten days of January has passed, people are not allowed to eat it. According to Tadaima Japan, a culture and travel web magazine, Kagami mochi is a two-layered rice cake with a bright orange Japanese mandarin called mikan on top of it. To eat this, one must first break it with a wooden hammer or with their hands.
     Meanwhile in the Philippines, Axcel Ramos, a first year senior at Senior High School Philippine Women's University, which in the U.S. would be comparable to a junior in high school, shares that his family celebrates the New Year's holiday by holding a big family gathering.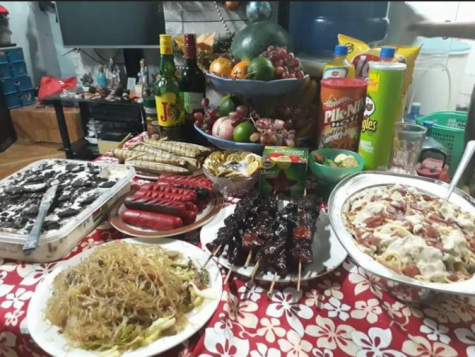 At midnight, Ramos and his family play a quirky traditional game: the elder relatives will throw money and everyone, usually the kids, will rush to catch as much as they can grab in the air or on the ground. He also shares that there is no traditional food that is served during their celebration, but he mentions that chicken is almost always served.
     In contrast to Ramos' experiences, Mary Jane Cacalda-Yasoña, a housewife residing in Laguna, Philippines, says, "There should be 13 kinds of fruits on the dinner table, so that the new year enters beautifully."
     In France, the New Year is celebrated similarly to the United States, where people gather around for a big meal on the eve of New Year's Day, called 'le Réveillon de Saint-Sylvestre. They will also watch the President of France address the nation and stay up for a toast at midnight.
     French teacher, Mrs. Marla Kosenski, shares about the day of Epiphany on January 6, observed mainly by Catholics, that ends the New Years celebration. She shares, "A 'Galette des rois' (King cake) is served on that day and in it has been placed a small figurine.  The lucky recipient of the piece with the figurine is crowned king or queen for the day."
     The New Year's Eve meal usually includes foods like caviar, which are unfertilized eggs known as roe, escargot, a dish of edible land snails, and occasionally some type of meat. This meal is several courses long and can take hours to finish. Additionally, the King cake is a puff pastry cake that has a creamy almond filling and the figurine, or charm, hidden is called the fève.
     On January 1 a small gift or money may be given to children, young adults, or any friends and family. Kosenski also says, "For those who have provided services throughout the year (postal worker, concierge, etc.) it is common to give a monetary offering at some point throughout the month."