Foran Alumni Spotlight: Jacquelyn Larese's Journey
     Graduate of 2019 from Foran High School, Jacquelyn Larese, used her time in quarantine to begin her weight loss journey. Prior to the lockdown Larese did not have many goals in her life. She lived her days in the same routine of going to school and attending her job at Jimmies of Savin Rock, a family owned restaurant. 
     Around the start of the pandemic, Larese mentioned she was at a fairly low point in her life. Her senior year of high school had just been cut short and at this time her plans for her future were very tenuous. The start of quarantine and nationwide safety restrictions pushed her to a realization that a change was needed in her life. 
     Maintaining these COVID restrictions along with physical health guidelines had an impact on the start of her weight loss journey. The Center for Disease Control and Prevention says, ¨Healthy weight loss isn't just about a "diet" or ´program´. It's about an ongoing lifestyle that includes long-term changes in daily eating and exercise habits¨ 
     Larese started working out in early February of 2020 in hopes of bettering her self esteem. 
     She says, " I just wanted a change and once quarantine started there wasn't much else to do so I really started to enjoy working out."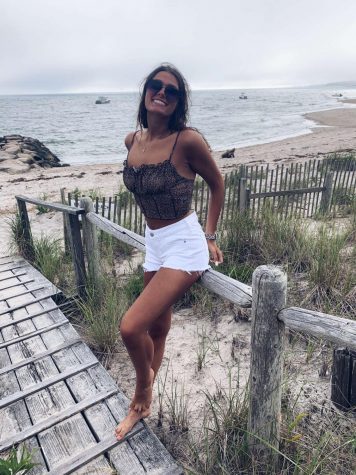 Activities like walking the boardwalk at beaches and simple work out videos found online became a daily routine for Larese. This extended into a change in her eating habits and mental willpower.  She states, "The hardest part of this journey was trying to stay on top of my diet and working out while the ones around me did not have the same routine, so I struggled to stay on track sometimes." 
   Even though Larese faced some of obstacles during her transformation, she says the benefits definitely outweighed the hardships. She kept a positive mindset and was more encouraged by her modifications. 
     She says, "The most beneficial thing that has come from this journey was the outcome. The feeling of 'Wow I really have come this far.' Looking back to where I was in February I never could have imagined I would be where I am today, which is super rewarding." 
     This motivation and confidence she gained changed Larese´s self perception These new found feelings allowed her to open up to new aspects in her life. Also inspiring her to include college as her next future plan. . Her older sister, Marissa, shares, ¨I couldn´t be more proud of my sister, not only because of the weight loss, but because of how she transformed her mindset and reached her personal goals.¨Jacquelyn Larese now attends Southern Connecticut State University and is majoring in Education. 
     Larese says, ¨One piece of advice I would give someone starting/in the process of losing weight is to not beat yourself up over results because they take time. You´re not going to see changes right away, just keep going and results will come because they are different for everyone.¨