Key Takeaways: What you Need to Know About the Fantasy Football Season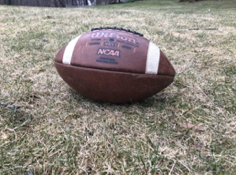 As the regular season came to an end for the National Football League, many football fans had looked back on their teams to prepare for next year's draft. This year was an odd year for fantasy owners. Fantasy owners had to pay close attention because players missed games due to Covid-19 and injury. 
     This year started late and NFL players weren't able to get their body to peak shape for their season. Without training camps and a preseason, there were much more injuries to star players at the beginning of the season. 
     Junior Barry Held states, "I had a very rough fantasy year with injuries to my players. I had drafted Saquon Barkley with the first selection in this year's draft expecting him to put up 25 plus points every week."
     This didn't work out for Held as he expected it to. Barkley tore his ACL in the beginning of week two's game in the first half. He finished the year with a total of 34 rushing yards and 60 receiving yards. This added up to a total of only 15.4 points on the year.
     Many players who were able to stay healthy had breakout seasons. The number one fantasy quarterback in 2020 was Buffalo Bills quarterback Josh Allen. Throughout the season, fantasy owners, such as junior Brian Wilcox, were thoroughly impressed with Allen's standout performances. Wilcox states, "His consistency at putting up big numbers impressed me the most."
     It was a surprising season, as he was able to muster six games with over 30 points. He also had a total of 396.06 fantasy points this season, achieving career highs in almost every category. He finished the 2020 season with 4,544 passing yards, 37 passing touchdowns, and 421 yards rushing along with eight rushing touchdowns.
     The top running back of the 2020 season was Saints running back Alvin Kamara. Kamara had a total of 932 running yards along with 16 running touchdowns. He also had 83 catches for 756 yards along with five receiving touchdowns. He led all running backs in points with 294.8 points for the year.
     The top fantasy receivers were the Green Bay Packers' wide receiver Davante Adams and the Kansas City Chiefs' Tyreek Hill. Adams had a total of 115 catches for 1,374 yards and 18 receiving touchdowns. Hill had 87 catches for 1,276 yards and 15 receiving touchdowns. He also had 123 rushing yards and two rushing touchdowns.
     Another player from Kansas City, Travis Kelce, performed the best out of all players in the tight end position, finishing the fantasy season with 11 total touchdowns and 1,416 yards, the most out of any tight end in the league.
     While some stars were able to put up fantastic statistics which helped propel hopeful fantasy managers to the playoffs or the championship round, others did not perform up to standards, and ended up hurting their squads. Consistently looking out for struggling players, injuries, and Covid-19 diagnoses were key for a team's success, and many fantasy owners learned this due to the Covid-19 shortened season.