Mr. Berkowitz, Educator, Parent, Mentor
Principal Leads School to Success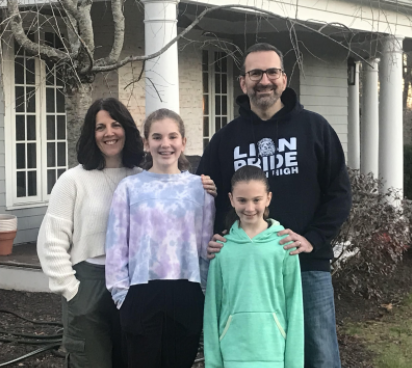 Some students may shudder when they hear the words 'school principal,' conjuring images in their minds of an authority figure that they would rather avoid. But, Mr. Max Berkowitz, along with many other principals, prove that to be a false judgment. 
     Some students may know Mr. Berkowitz as the man reciting speeches at assemblies or making appearances at every school event, but there is a lot more to this friendly face than people realize. 
     Berkowitz, originally born in Bridgeport, spent the rest of his childhood growing up in Trumbull. He states how he lived a very fortunate life and that he had supportive parents and great friends growing up. Every event that occurred up to now made him who he is today.
     Before he came to Foran in 2013, he had been working at Bunnell High School for over 20 years. Berkowitz attended Southern Connecticut State University and Sacred Heart University to receive his Liberal Studies degree, Masters of Arts in Teaching degree, and sixth year certificate in administration.
Berkowitz explains his original professional goals by stating, "I thought I'd be playing for the Oakland Raiders but that didn't pan out.  My father was a teacher for 36 years, also an athletic director for seven of those years, at Harding High School."
     He describes his father as his role model, saying, "I always admired how he built strong relationships and cared for his students and his school. We had many conversations of how meaningful it was to be a teacher and I saw the positive impact he had on so many students. He inspired me to consider education as a career. My father has passed away, but he will always be my hero; I learned so much from him and I try to emulate him as a husband, father, and educator."
     Many people confide in Mr. Berkowitz if they are struggling or need help throughout their four academic years with him. 
     Senior, Daniya Chopra, expresses her gratitude by saying, "Mr. Berkowitz is the core of Foran High School. He has always put the school and his students as his priority and looks out for the well being and success of everyone. He also pushes to create continuous and positive change in our school dynamic to make sure every student feels welcome and safe. I am very grateful to have him as our principal and a mentor that everyone can look up to!"
     When not in school, Berkowitz spends time with his wife, two daughters, friends and other family. He spends his time away from Foran watching sports, Netflix, playing fantasy football, and eating at his favorite restaurants. 
     Make sure to follow @MrBLionPride on Twitter.