Celebrating the Lunar New Year
     New Year celebrations have yet to conclude around the world, where those who follow the lunisolar calendar will welcome a new year during the beginning of February. According to the present calendar cycle this year, the Lunar New Year falls on February 12 and will be celebrated by millions worldwide then.
     This year is the year of the Ox which symbolizes success through hard work and positive, strong, relationships. The Ox is the second sign out of the 12 which differs from each Asian country. 
     The term "Lunar New Year" is coined from the fact that it marks the first new moon of the lunisolar calendar. Also dubbed as "Chinese New Year" or the "Spring Festival" in different cultures, Lunar New Year celebrations are tradition to many Asian countries and territories.
     Jennifer Liu and her family love to embrace their culture and hope others will be able to experience it as well. Liu states, "Lunar New year has a great deal of cultural significance in Asia, it's important to learn about it in order to gain an appreciation for other cultures."
     In China and other east Asian nations, a 15-day long celebration starts off on New Year's Eve, in which a family dinner is held in honor of such a reunion. Several of the traditional dishes that are served include fish, chicken, and dumplings, which signify the holiday's theme of fortune, happiness, and wealth.
     Iris Chen's experience commemorating the Lunar New Year touches upon many of said customs, yet also cites that it is similar to the conventional New Year celebration in the western world.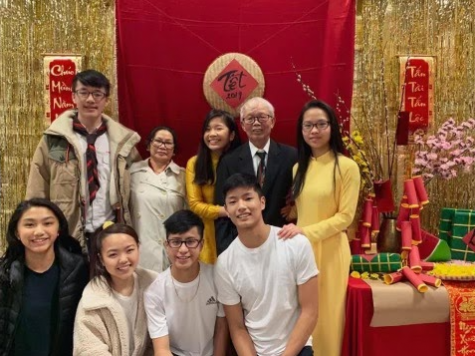 Chen states, "The atmosphere is similar to Americans celebrating the new year, however for Chinese New Year we specifically cook and eat with hot pot as a family and hand out red envelopes which have money inside to celebrate a new year."
     The Lunar New Year helps bring families together and creates special experiences for those who celebrate. Han Nguyen states, "Lunar New Year is one of the most important holidays my family celebrates."
     At Nguyen's church they celebrate the holiday by hosting an entertainment party with food and dances performed by the youth group that include the traditional Lion Dance. 
     Nguyen states, "One of my favorite things about it is getting the red envelope or lucky money…symbolizing good wishes and luck for the new year ahead."
     The Lunar New Year is a celebration of culture and is a holiday that unites those who appreciate it. Nguyen states, "If one was to travel to Asia during the New Year, it would be concerning for one not to know. This holiday should be known worldwide, Happy year of the Ox!"