Finding a Furever Home: A Look at Animal Rescues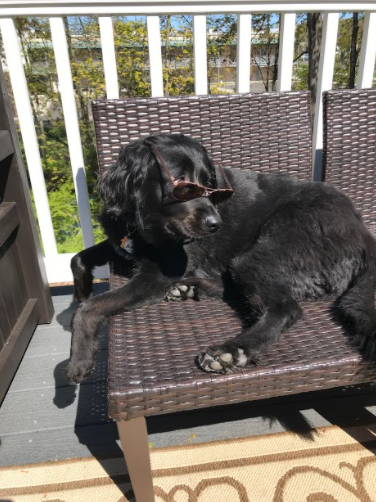 With a wet little nose and floppy ears, many people know the warm, fuzzy feeling they get when they see a puppy. When people think of domesticated animals, generally their minds go to a dog sitting at their feet, or a cat curled up on a chair; however, not all pets are so lucky.
     According to the American Society for Prevention of Cruelty to animals (ASPCA), "[a]approximately 6.5 million companion animals enter U.S. animal shelters nationwide each year."
     The Connecticut Humane Society, or CHS, is one of Connecticut's largest rescues, with locations in Newington, Waterford, and Westport. Susan Wollsclager, an employee at CHS, shared that 1,391 pets were adopted from the Connecticut Humane Society in 2020.
     Wollsclager shares that oftentimes, lost animals are found and brought to the rescue where they can be happily reunited with their families.
     Many Milford residents have found their own furry friends at local animal rescue centers like CHS, such as Mr. Connors, chemistry teacher. In October of 2020, Mr. Connors and his wife adopted Chase, a black lab puppy, from a rescue in New Hampshire. When they found Chase, it was like love at first sight.
     "I told her to wait till after her surgery…but that didn't happen when she found a picture of Chase…then we met him and that's it!" Connors says.
     Connors and his wife have a history of taking in rescues. He shares that it's his wife who has the biggest soft spot for pets. "Mrs. Connors is the one who falls in love with the puppies… Chase is our third rescue lab… A lot of times families with young children get a dog, especially a large breed dog, and find out it's more dog than they can handle with young kids."
     Pets are a huge responsibility, and Connors warns to be aware of this from the get-go. His advice for future dog owners is simple: "Be patient, give them plenty of attention, and give them plenty of LOVE."
     Students have also adopted from rescues, with Brendan Ziegler, a junior, having adopted his dog, Shea, from a New Jersey rescue in grade 6. Brendan has fond memories of the day he met Shea.
     "She was the last black lab left and when we sat down, she jumped on my face."
     Brendan feels adopting dogs from a rescue is so important because it  saves their lives. Shelters make it possible for such important friendships to be made while saving these animals. This is all thanks to the hard work of their employees. 
     According to CHS, there are a variety of jobs performed by volunteers and paid employees.
     "There are many different staff roles at CHS. They include adoption counselors who help pets and families find the right match; care technicians who feed the pets and clean their living areas; veterinarians who perform surgeries, exams and much more; veterinary technicians who assist with surgeries and exams and other medical care…"
     There are many additional roles, such as volunteers and a volunteer coordinator, foster coordinators and foster volunteers, operations and supplies managers, directors, finance staff, and fundraisers. These roles are all extremely important pieces in the puzzle of how to best care for homeless pets.
     Shelters are not alone in their crusade for the wellbeing of homeless pets. While the government does not give funds to rescues such as CHS, it relies largely on donations to care for its pets.
     "CHS relies on donations from area residents and local businesses, as well as grants from foundations and fees for services (like adoption fees, clinic fees, etc.). It also receives interest from a large donation given decades ago. CHS holds events (virtual events during Covid) that also fundraise for the pets, too."
     Once an animal is rescued, these funds are put towards veterinary care, which Wollsclager says every pet at CHS receives, "no matter what is needed." When asked why she believes rescuing animals is so important, Wollsclager was passionate about the concept of advocacy.
     "I believe rescuing pets is important because pets don't have a voice to speak up for themselves, and they rely on people for all of their needs."
     Wollsclager says that CHS often takes in pets in critical need of medical attention, and that pets are often taken out of unsafe or abusive situations. 
     Ultimately, as Wollsclager says, "helping pets helps people. It makes the community a better place."