Nick Newell's Rise to Fame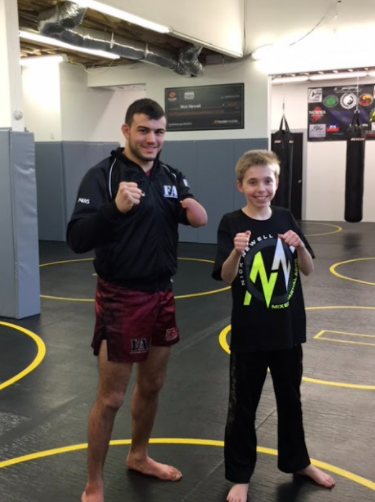 To be an MMA champion is a dream for many. To work all your life to be a champion and to accomplish it is nothing short of amazing. Nick Newell has experienced all of this. What makes him different is he was born with only one arm, but that has never stopped him from accomplishing his goals.
     Nick Newell is a professional Martial Arts Fighter in the lightweight division. He is also Connecticut's only Mixed Martial Arts World Champion and is one of the most successful martial artists to ever live in Connecticut.
     He started wrestling in high school at Jonathan Law because he wanted to learn how to defend himself.
     Newell says, "All kids should know how to protect themselves. Being born with one hand made learning self-defense particularly important. Wrestling made me physically stronger and increased my self confidence."
     After high school, Nick continued wrestling at Western New England College.
     He opened his own business in Milford, Connecticut on 333 Quarry Road.  It is an MMA Training Facility and this is where he coaches wrestling, kickboxing, mixed martial arts, brazilian jiu-jitsu, muay thai and classes for kids. He coaches people of all ages on how to set goals and accomplish them as well. 
     His business is dedicated to helping develop self-confidence, boost self-esteem, knowing you can protect yourself in dangerous situations, lose weight, and get in shape. His gym is about 5,000 square feet which allows him to teach all of the classes he offers.
     Newall says, "I opened my own gym, Fighting Arts Academy CT, first in West Haven for three years and then in Milford for the past year and a half, because martial arts is something I want to do every day."
     He says, "I wanted to be able to coach, teach all ages and all ability levels. I also wanted to give back to the community." 
     He travels to different locations to speak to children who face similar challenges that he faces in his day to day life. He faces adversity and wants to set an example on how to overcome those challenges. 
     Newell says, "I used to travel more frequently to meet with groups of children and parents through the Lucky Fin Foundation and Helping Hands Foundation." 
     Since he owns a gym, is busy training for his own fights and taking care of his two young children, he has not been able to meet with the kids as much as he used to. But, they communicate with each other via social media to stay in contact and to continue to show their support for one another.
     He also explains that both of these organizations were made to raise awareness, to educate and provide support to people in the limb difference community.
     According to https://www.imdb.com/title/tt6032692/,  a movie was made about him called, "Notorious Nick" which was made in 2021. This movie is about his journey and how he works hard to be successful and to inspire those who have similar disabilities. It is important to him that he inspires others to push themselves even if things don't come easy for them.
     He has a ton of support from his own family, his wife's family and from his friends. He says, "My biggest supporters are my lovely wife and my two sons. I have an amazing family and lifelong friends that have and continue to be such a strong support system." 
     His thousands of followers on social media are also there to support him.  He has international support from different people from across the world who have gone through obstacles and adversities. The Lucky Fin and Helping Hands organizations have also given him a ton of support.
     "I have had the privilege to meet so many great people through these organizations. And from the MMA community, which is large and growing. I try to create an environment at Fighting Arts Academy CT that is welcoming, accepting and supportive."