Talking With Toon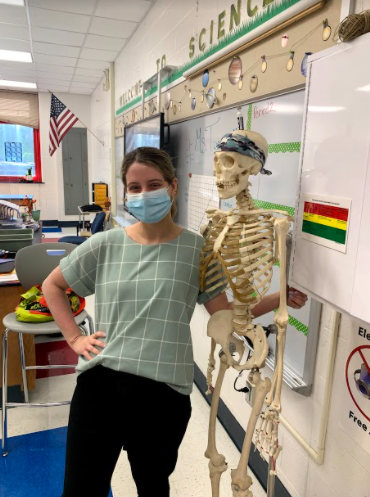 As the school year kicks back into motion, some adjustments are made to school staff. Ms. Baleigh Toon is covering for Ms. Emily Lockhart's classes in the science hall while she is out on maternity leave.
     Originally from Dallas, Texas, Toon moved to Milford, CT when she was eight years old. She currently lives in New Haven, CT with two of her best friends. Initially, Toon graduated from Marist College with an undergraduate degree in biomedical science in hopes of a profession in the medical field. However, she fell in love with teaching after becoming a TA for a biology class. Toon is currently receiving her masters degree in arts of teaching at Quinnipiac University. Toon enjoyed seeing her students learn and grow, so she applied to grad school to become a teacher. 
     "I actually graduated from Foran. It truly is a great place to learn with some awesome staff," says Toon, "my first impression of Foran was that it is truly a community full of multi-faceted and extremely talented students and teachers."
     Toon will be teaching four Human Anatomy classes and one Living Earth class. She already has Foran experience under her belt, having interned and substituted for the entirety of the 2020-21 school year.   
     While beginning teaching can be a huge undertaking, Toon had some help from Lockhart. 
     "Lockhart has been super helpful in preparing me for the first few units of anatomy," says Toon. 
     Toon has exceeded expectations as a teacher so far which has been a pleasant surprise for students and staff alike. Her positive demeanor goes a long way in forming healthy relationships with students.
     Science teacher Mr. Greg Sember says, "Ms. Toon has already made an impact in the science department…I am impressed with how well she is handling the stress that comes along with being a student-teacher as well as her skills at lesson-planning, this early in her career."
     Toon is also a familiar face for many faculty members. Dean of Students, Mr. Justin Zywocinski states, "[Baleigh] has been doing a great job stepping in for Ms. Lockhart and has stated she is really enjoying her time in the classroom with her students."
     Toon hopes to finish her teaching degree in the near future and will proceed in becoming a teacher at a school in Connecticut.