Paid Leave for Connecticut Mothers Beginning January
     Maternity leave is an employee benefit available for new mothers in most countries. Maternity leave can be up to about 12 weeks long if the family is eligible for it in the United States.
     The Family and Medical Leave Act (FMLA) is a law that guarantees 12 weeks of unpaid, job-protected leave but is only available for certain employees and companies. Not all states provide paid leave because the FMLA doesn't require employers to pay their workers during their time with their newborn.
     In the United States, only six states require paid leave. These include California, Massachusetts, New Jersey, New York, Rhode Island and Washington. But on January 1, 2021, Connecticut will join that list for requiring paid leave for all families. 
     According to the U.S. Bureau of Labor Statistics, "In March 2021, 23 percent of civilian workers had access to paid family leave and 89 percent had access to unpaid family leave."
     All states are required to give time off after having a newborn, however, they are not required to pay someone during that time. Most places allow guaranteed six to eight weeks of leave after birth but some may be more or less.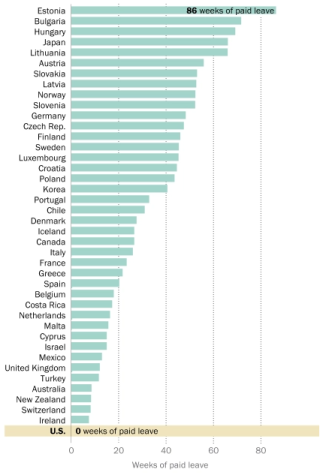 Aubry Dove is a Foran school counselor who just returned to work after giving birth to twins. She says being a parent is an incredibly stressful, time consuming, and expensive job.
     "I think it is important for parents with new children to have paid leave [and focus on] starting off a human being's life [with] very careful attention," she says.
     Family leave in Connecticut cannot discriminate against people in the workplace in any circumstance because of their pregnancy. Maternity leave treats pregnancy as a temporary disability, however, a workplace can not treat these people differently. They can not change your work duties or where you work as long as your pregnancy does not affect your work.
     Spanish teacher Margaret Morazzini discusses the importance of maternity leave especially as a teacher. She recently had a newborn baby and took some maternity leave in the past year.
     Morazzini says, "I think it is also important to point out that currently, 'paid' maternity leave, at least for teachers, means that we are using all of our accumulated sick time during the leave- and not that we get to keep our sick days and still get paid.  For those who do not have enough sick days to cover 6-8 weeks worth of a leave, once you have used all of the sick days you have, the rest is completely unpaid."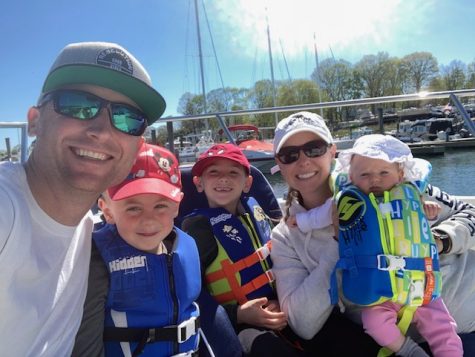 Short-term disability (STD) is an insurance option that can help extend the mother's leave from their job. STD insurance usually will pay between 50 and 100 percent of the salary of the mother after a certain number of weeks they give birth. This amount can depend on your company, union, and the years worked at the job. 
     Maternity leave is very different depending on the place you live. But, maternity leave is an important piece of a mother and childs beginning stages of life.