The Story of Savin Rock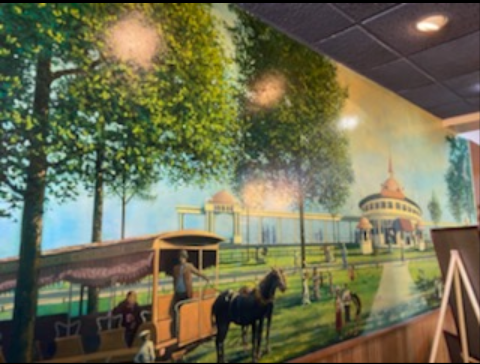 Imagine walking down a brightly lit street, sounds from amusement rides and the roar of roller coasters echoing all around, the breeze of the summer night, people having fun and the smell of fried foods and cotton candy. 
     Today, Savin Rock Park in West Haven, CT is a nice place to take a walk and enjoy the seaside, go for a bike ride, or walk the dog, but Savin Rock was known for the better part of the twentieth century as "Connecticut's Coney Island.¨
     Named after the Savin trees, which still rest atop a massive rock facing the shoreline, it was originally established in the 1870s as a seaside resort by Civil War veteran Colonel George Kelsey. Savin Rock then evolved into a large amusement park into the early twentieth century, attracting visitors from all around with numerous funhouses, roller coasters, good food and other attractions, before it closed in 1967. 
     "People were calling it the Disneyland of Connecticut," says art teacher Mr. Henry Czajkowski. He recalls going to the park as a young boy in the 1950s.
     A trolley car system was established, which allowed people in the surrounding areas to be whisked off to the magical world of Savin Rock, such as the stone waiting station in Morningside that used to serve as part of the trolley line linking Milford, New Haven, and Bridgeport. Likewise, a 1,500-foot pier built out into Long Island Sound attracted ferries and boats. 
     "My grandparents used to take me down there, the Wild Mouse ride was very popular and my sisters loved it. My favorite was the classic wooden roller coaster," says Mr. Czajkowski. 
     There was a section of Savin Rock featuring a tall tower adorned with electrical lights inspired by Chicago's "White City," a small train that took visitors on a short tour of the park, and an old baseball field named Donovan Field that turned into a race track for howling midget and stock cars.
     "Savin Rock was so popular that people came from New York by the bus load," remembers Al Toscano, a lifetime resident of West Haven, "After the races people would go down to Jimmy's and have a hot dog and drinks…You got promoted or you graduated, you would go down to the 'Rock.'"
     Jimmy's and Turk's are among some of the last surviving restaurants in the area from that era. Jimmy's was opened in 1925 as a successful food stand introducing their famously invented split hot dog, and has today evolved into a modern restaurant, which has photos and murals of the old Savin Rock inside the building to this day.
     "There were so many rides, the Thunderbolt, a nice restaurant called Wilcoxes…there was a carousel which we called the flying horses," says Madeline Mansfield, another lifetime resident of West Haven. 
     Mansfield and Toscano recall more memories, including band concerts in the summer where the beaches were loaded with people, so much that you couldn't find a place to lay your blanket. There were roller coasters going out over the water, and the Laughing Lady near the carousel created a sound that "could be heard for miles." They said you could smell the burning rubber from the stock cars, the fried food vendors, cotton candy, and seafood. 
     It was a kid's delight that could be enjoyed with little to no money, a place for everyone to have endless fun without needing much wealth, where people of different classes and ethnicities could come together. But by the 1960s, the park had lost its luster, and urban renewal began to take over.
     "It was starting to decay, the maintenance, so you know people figured that unless someone put a lot of money into it it was going downhill," Czajkowski continues, "I don't think a lot of people remember it anymore, but when I was a kid the park was a great deal."
     Toscano comments further on the downfall of the park, saying, "They wanted all this to be redeveloped…the city owned it, politicians in West Haven didn't want it, and then land developers came in and knocked down parts that weren't used." 
     As the park was taken down in the 60s to make the valuable coastal space viable for retail spaces and residential buildings, Mansfield, whose father was a trolley conductor, was on a committee to stop the land from becoming thoroughly developed.
     "I was on the committee called Save Our Shores; to stop developers from buying any more of this land and to keep it open for everyone…We saved this area from becoming more developed," says Mansfield.
     And today, although part of the land is owned by a condo association with other buildings, the ocean boardwalk and open space still remains, a result of this effort. 
     "These kids don't know what they're missing," says Toscano reminiscing on the glory days of the park, "I miss the whole thing." 
     The endearing quality of what used to be Savin Rock is being forgotten, the early 1900s American glamour of "Connecticut's Coney Island," no more than a fading memory. However, by remembering and talking about Savin Rock, we can keep its memory alive.