(Taylor's Version)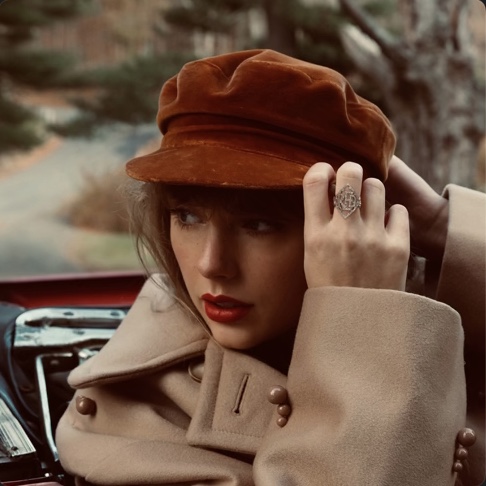 Taylor Swift is an American singer-songwriter who is well-known for her music and her creative song lyrics. In 2012, Taylor Swift released her popular album, Red, which reached millions of listeners over the years. On November 12, 2021, Swift released a 30-song album that included re-recordings of the original Red songs and more "from the vault."
     On Late Night with Seth Meyers, Swift said, "There was something that happened years ago where I made it very clear that I wanted to be able to buy my music. That opportunity was not given to me and it was sold to somebody else. So I just figured I was the one who made this music first. I can just make it again. So that's what we're doing."
     Swift decided to re-record her albums in order to take back her songs and gain full royalties. Her music was sold to Scooter Braun, who Swift claims bullied her, and she refuses to allow part of her song revenue to go straight to him.
     Swift tweets, "It never would have been possible to go back & remake my previous work, uncovering lost art & forgotten gems along the way if you hadn't emboldened me. Red is about to be mine again, but it has always been ours. Now we begin again. Red (my version) is out."
     To celebrate the release of Red (Taylor's Version), Swift recorded a 10 minute long version of the song "All Too Well" from her original album. Along with the song, she released a short film starring actors Dylan O'Brien and Sadie Sink. 
     The day of the album release, Red (Taylor's Version) broke the record for the most-streamed album in a day by a female and for the most-streamed female artist in a day in Spotify history. "All Too Well (10 Minute Version)" is also the longest song to hit spot number one in the Hot 100 chart history. 
     Senior Bridget Kiernan says, "My favorite part of Taylor's album is her 10 minute version of All Too Well. Also, I am excited for the release of future re-recorded albums."
     The song "All Too Well" was originally released in the 2012 Red album but was only about five and a half minutes long. Swift, however, explains she originally wrote the song to be 10 minutes but cut it down to be reasonably timed in her first Red album. 
     In the release of Red (Taylor's Version), she included the full 10 minutes along with the re-recording of the five and a half minute version. She also released a "All Too Well (Sad Girl Autumn Version)" on Youtube, totaling four versions of this song. 
     "Taylor Swift is extremely iconic and intelligent for re-recording her own music. People think it's for financial purposes, but it's truly about owning her own artistry. She is a dominant force in the music industry and is headlining a path for other artists to follow when it comes to control of their own creations," says Foran graduate Nicolette Simone.