Student Business "Baked by Rylee" Takes the Cake
     Rylee Tondora is a senior at Foran who recently created a business called "Baked by Rylee." Tondora has always had a passion for baking sweet treats and finally decided to turn her hobby into something more. 
     Customers can view her menu here as well as view her posts on Instagram at @bakedbyrylee. Customers can also email her with requests and orders.
     TikTok and Instagram have been great platforms for Tondora to show off her skills to peers, friends, family, and anyone else who wants to enjoy her treats. She posts sped up, 1 minute long videos of the process and final result of making her desserts. These videos show how everything Tondora makes is from scratch, nothing from a box.
     Tondora bakes anything from cakes, to pies, to cookies. On her website, customers can view the many different flavors of desserts she has along with pictures of her previous pastries. Though prices vary on size, decorations, and flavors, most cakes sell for $25 to $35 dollars. 
     Running a business as a busy senior in high school is not easy. Tondora plays two varsity sports, is in the top five of her class, and has an AP and honors-level workload. 
     Tondora says, "I have always loved baking in my free time, but I became especially interested when the pandemic started because I had more free time. Some of my inspirations come from watching the Great British Bake Off because the contestants always make interesting cakes, breads, and pastries"
     Since the Covid-19 pandemic, Tondora has taken her fun and relaxing hobby and turned it into a small business that will hopefully grow in the future.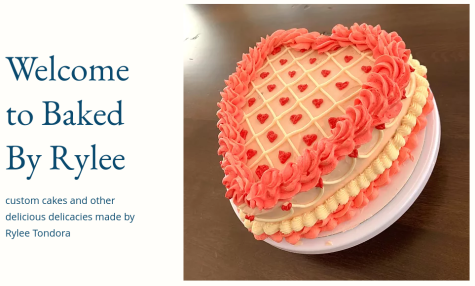 Ava Steigbigel is a senior who recently purchased some pastries from Baked by Rylee.
     Stiegbigel says, "I had a great experience with Rylee's business, she made a cake for my grandfather's birthday. She made a homemade raspberry jam as a filling for the best chocolate cake I have ever had
     She continues, "I also ordered snickerdoodles from her for Christmas. I think Rylee will become a good business owner in the future as she is already a successful and professional business owner at such a young age."