2022 Films to Look Out For
     After a strange year film-wise, the movie industry is prepared to come back big. Last year, although films like "Spider-Man: No Way Home" made more than a billion dollars, box office and ticket admissions for 2021 were quite below pre-pandemic levels, despite having increased since 2020. 
     Studios have experimented with different ways to distribute their films to people. Disney decided to first stream their films on Disney Plus's Premier access while simultaneously releasing them in theaters. 
     Disney, along with many other studios, have decided to exclusively release their films in theaters exclusively, then shorten the time frame between being exclusively in theaters and on streaming and video-on-demand.
     Some films coming out include: 
The Batman (March 4)

Doctor Strange in the Multiverse of Madness (May 6)

John Wick: Chapter 4 (May 27)

Jurassic World: Dominion (June 10)

Thor: Love and Thunder (July 8)

Mission: Impossible 7 (September 30)

Black Panther: Wakanda Forever (November 11)

Avatar 2 (December 16)
     Mrs. Laura Donovan, science teacher, said she had more of a relaxing winter break this year, so she was able to catch up on a lot of the movies that came out last year via streaming. 
     She comments, "I would love to go to the movies more often this year! I think there's something really awesome about getting to see a movie for the first time on a big screen with surround sound. I'm not sure about which movies are going to come out this year, but I haven't been able to see the new Spiderman movie yet, so I'm looking forward to getting to see that sometime soon!"
     Ms. Melissa Jones, English teacher, said that she watched one new movie that came out on Netflix (Red Notice) and one new movie that came out on Amazon Prime (The Electrical Life of Louis Wain.)
      "I am incredibly excited to see the film Cyrano. I was lucky enough to see a performance of the 2018 stage show at the Terris Theater, and it was phenomenal. I'm also excited for Doctor Strange in the Multiverse of Madness, as I'm a huge fan of Benedict Cumberbatch and the character Dr. Strange. I'm looking forward to the sequel to Puss in Boots, as well, since I really enjoyed the first film!"
Leave a Comment
About the Contributor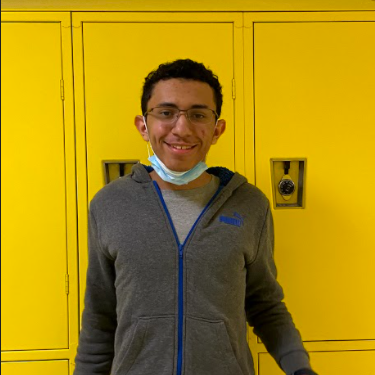 Yusuf Abdelsalam, Staff Writer
     I am Yusuf Abdelsalam and I'm in 10th grade. I enjoy movies, gaming and field hockey. I like writing about impactful stories in entertainment...