Football Captains Kickstart the New Season
Seraiah LaPorte and Amanda Queiroz
Staff Writers
This year's football season quickly arrives with new captains and new responsibilities kicking off with a home game against East Haven on Friday, September 13 at 7:00pm. This year's new captains Andrew Janik, Caden Ondek, Max Queiroz, and Will Phelan, learn new responsibilities and work on putting their own teaching style into the role of being a captain that will help lead the team of 2019. The captains are looking forward to a new season for new beginnings and hoping for exciting comebacks this year. 
With the role of becoming new captains, responsibilities include the qualities of leadership, setting the right examples to the rest of the team, and contributing to making the team the best it can be. As a captain, it does not only mean teaching other players on the field, but also lifting up their confidence and building relationships into a family. Ben Geier, junior on the varsity football team, shares, "Captains help everyone out, from cheering on teammates to helping explain plays." Captains help influence not only their own performance, but their teammates.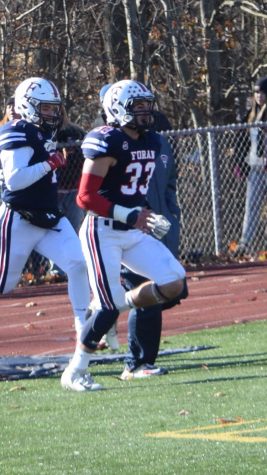 Andrew Janik, senior quarterback, displays captain qualities by setting examples for the team and providing tips to the players on and off the field. Football head coach, Coach Drew, comments Janik as "A player who takes charge of the offense…he is very vocal with the way he leads". Janik as a captain has an open mind to any of his players. Looking to help his teammates, Janik adds, "Having teammates that turn to me about any problem and me being able to help them is a privilege I have as a captain." In Janik's perspective, the goal for this season would be to improve the record of the team and to create a positive cultural atmosphere in the future. Janik brings a "…special talent as a quarterback and can make every throw." as told by Coach Drew, that would be lost in the following football year.
Max Queiroz, defensive end, sees a promising future with this years team so far as he prepares them for the upcoming game. Queiroz is not only praised through his work ethic, but also the energy he gives to the team. Drew explains, "There's two sides of Max…he leads by example with his work ethic… but also as far as pregame is concerned  he also has a ton of energy and everyone feeds off of it." Queiroz is the team's "personal hype man" as he said he was "looking forward to leading [his] team out at every home game… getting those pregame jitters again." Queiroz brings a different type of energy to the team that gets everyone "into it" as Geier remarked. Geier also describes Queiroz as "one of the hardest workers on the team… he works hard 100% of the time." As this season officially starts, Queiroz adds "I can see a different energy on the team this year…" Queiroz is hopeful for new records and optimistic to lead his team to success this year, starting with September 13 as a clean slate to the start of the season.