Foran Girls Swim Team: Keepin' It Cool in the Pool
Kaitlyn Dalby 
Lindsey Larese 
Staff Writers
School has started and that means Foran fall sports have started, too.  The upcoming season of swimming and diving started September 13 against West Haven. Foran won against West Haven 101-83.
Junior, Emily Eschweiler is on the swim team and has been since freshman year. She says, "I have been swimming since I was five."
She finds it really fun because of all the people on the team.  Emily's favorite event in swim is the 100 breaststroke and the 100 freestyle.  But, she usually gets placed in the 500 distance which she doesn't like to do. Emily states, "I made states last year and I swam in a relay freshman year.  It was really fun because it was so different."
She also comments that the swim team has a really good environment overall.  Everyone cheers each other on during the meets.
New head coach Meghan Condon states, "It's a lot of fun and exciting to have a new role and take over the team."She took over this year from long-time coach Kristin Skuches, after serving as assistant to Skuches for several years. Most people know Condon as an English teacher. She says,  "All seniors step up and make sure everyone is welcome, they do a phenomenal job getting everyone organized and ready for the meets."
She also says "They are great to watch swim."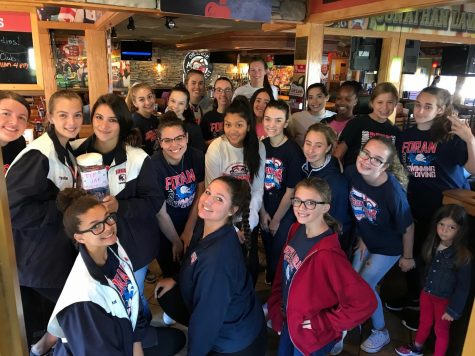 The new assistant coach, Shauna Newall states, "It's great." The team is really close and always has good, positive energy."
Students may already recognize the assistant coach also as an English teacher, class advisor to juniors and seniors, and the GSA advisor. Although new to coaching, she is not new to the sport, swimming from the age of 3 to high school. Coach Newall receives help from head coach, Condon. She says, "Coach Condon has been very helpful in working to help me coach better." Coach Condon states, "It's exciting and nerve-racking a lot of responsibility being head coach".  
Junior, Katherine Parker is new to the swim team this year.  Her favorite event is also the breaststroke. She says, "Personally, it's one of the easiest ones to swim." 
She states the coaches are very supportive and encouraging. 
Upcoming meets include a couple of big rivalries, like Lauralton on October 25 and Law on October 28. For a complete schedule click here to see the Foran 2019-2020 Varsity Girls Swimming and Diving Schedule.