The Best Quick Eats of Milford
The consumer guide to finding the best places to eat in Milford, CT.
       When it comes to finding a quick, easy and cheap place to eat in Milford there are lots of places to choose from. Despite the national food chain restaurants, locally-owned restaurants in Milford top the scale any day. In Milford, the countless amount of family-operated restaurants are very popular due to their location, price, service, and obviously the food quality. 
       Pop's Family Restaurant, located on Old Gate Lane, is known for their friendly environment, all-day breakfast, and weekly specials. In a survey of students, it was asked what their favorite quick eats restaurant is, Pops won by a high amount. Pops was originally opened in 1991 down the street on New Haven Ave. When the owner, Kostandinos Grigoriadis (Gus), wanted to own his own property, they decided to move to their most recent location and their business increased greatly. 
       Another quick eat is Dog Town, run and owned by Bobby Manere. DogTown started in a 10 feet  Chevy step van and was originally meant to solely become a food truck. When the food truck gained popularity in the public eye, they decided to open up their own restaurant, also on New Haven Ave Milford, CT. Brendan May, senior, is a regular customer there. He says, "Although the food is on the higher side of the price, their food quality makes up for it." 
       On the other side of town near Silver Sands beach, The Greek Spot is one of the most popular summer destinations. With its convenient location, right on the beach, and its authentic food, The Greek Spot combines Greek and American cultures to create a combination of flavors.  The owner Leo Hlias Koutikas and his wife Stephanie opened the cafe in 2012 as just a summer based restaurant. But since this establishment became so popular, they decided to keep it open year long. Bella Pietrosanti lives on that side of town so The Greek Spot is a common place for her to go. She says, "As a lifeguard it's super convenient because it's right on the beach and it's super yummy."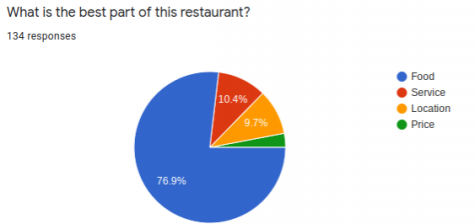 In contrast, Mr. Mac's Canteen is located on Bridgeport Ave and has another location in Monroe, CT. Their menu includes hotdogs, hamburgers, and seafood entrees. The owner, Jeff McPadden, is the father of senior Bella McPadden. Bella says, "As a family business, Mr Mac's has been a huge part of my life and who I am. I love how it's always something that will bring my family together." Their low priced, high-quality food is a big part of why Mr. Mac's is a top contender on the list.  Recently, they created a food truck that is available to rent for events due to their high demand for more. 
       In comparison to Mr.Mac's, the family-owned "Goodies" has many locations. Their location on Cherry street has branched out to a location right on Gulf Beach, open to the public during the summer season. Due to the success of the 2 locations, the owners Peter and Eleni Filipidis and their son, Yianni Filipidis decided to open a location in Orange, CT. 
       Although places like Silver Sands pizza and Stonebridge are also very good options for those who are willing to spend a little more money and time to eat. 
       Lastly, The Plate, located on New Haven Ave, the original location of Pops, is open for breakfast and lunch. Their menu is different than other restaurants due to their vegan lunch selection and their signature salads. The Plate is open for catering and private parties when asked in advance. 
       Overall, these top 6 quick eats restaurants in Milford are available to all due to their location, price, location, and overall service. Milford is fortunate to have these high quality quick eat restaurants as an option for anyone and everyone.