Milford Citizens "Chalk The Walk"
In attempt to raise hope and stay positive during these times, Milford residents write positive messages on the sidewalks
       As of March 12, 2020, Milford Public Schools were closed due to COVID-19, more publicly known as the coronavirus. Little did Milford residents know, this was just a small step into what this pandemic had in store for not only the community, but worldwide. Citizens have been advised to stay home and participate in the term "social distancing" to prevent the spread of this airborne virus as much as possible. 
       The coronavirus has been widely talked about and covered in the news for the past few weeks. It has been a time of disappointment, fear, and worry for many people around the world. Learning about how the virus has spread more and constantly being informed about the deaths becomes very dreary. However, on Sunday March 22,  Milford residents participated in "Chalk the Walk."
       There was a thread posted on Facebook that spread through the community to participate in "Chalk the Walk." It was quite simple. All that was needed to be done was write a message of positivity on the sidewalk, to spread happy news rather than discouraging, sad news. Due to the weather, many people were outside writing inspirational, hopeful messages on the sidewalk, while many walked by and were able to read and be inspired by the messages.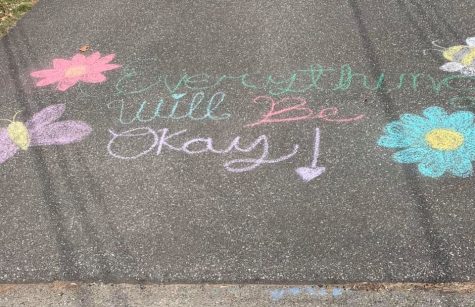 Small things during a time like this could mean a lot to individuals and keep the faith growing. It also brings a sense of hope to the community as a whole to bring everyone together during this difficult time. It is important to not only be positive during this time, but to also make sure to stay safe and sanitized and constantly wash your hands. There's no such thing as too much! Stay Safe!