Is Being a Pilot Right for You?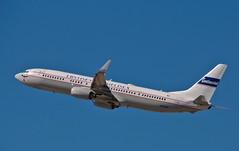 Jared O'Sullivan
Staff Writer
    You may have seen them around at airports and in the sky, you may even go on them once in a while. Planes; efficient for travel, very safe. But how often do you think about who's controlling the humongous flying machine? For commercial pilots, it seems to take forever to join their colleagues in the sky. Being a pilot may be a hard feat but joining the military may be an easy way to fly.
    Colin O'Sullivan, Foran alumni, is currently in the Air Force and is attending top-flight school Embry Riddle Aeronautical University' in Jacksonville, Florida. He is double majoring and has aspirations to be a pilot in the Air Force and eventually a commercial pilot. Colin has had an appreciation for flying for years, planning to fly in the Air Force. He has flown throughout high school and college and he uses his flying abilities to go from state to state and will eventually use his skills in a career. He's joined the military with aspirations to become a pilot because of the benefits of the military and because it's been his passion for years and years.
    There are lots of ways to become a pilot, according to the Federal Aviation Administration, the rules vary depending on what type of craft you are trying to fly such as helicopters, gliders, airplanes, balloons, etc. but overall a person needs to obtain a basic pilot license and potentially further training depending on the type of aircraft and occupation.
Air Force Reserve Officer Training Corps (AFROTC) states in regards to benefits, "Airmen and their families receive excellent rates, low cost, comprehensive medical and dental care at military and civilian facilities, full pay and allowances for sick days, and low-cost life insurance. The Air Force takes care of the basic needs of every airman." Living on base and joining ROTC in college has major benefits because the Air Force will cover a flat amount of college costs and someone who joins will have a job.   
Mélanie Astler, an aerobatic champion, explains  why being a pilot is cool in a CNN travel article. She says, "First of all, the feeling of freedom, of being your own eagle at one with the plane — leaving all your problems back on the ground and looking down at the stunning sites below. You really see the world in a different light. It is often said that the best office in the world is a cockpit, and it's true!"
Most people who think of being a pilot might think about being stuck in a cockpit for 15 hours and having everyone's lives in their hands, but to people like Mélanie, it's a completely different perception. Also for Ken Hoke who flies Boeing 757s and 767s for UPS and has been flying for 46 years. According to comments made on a 2018 CNN Travel article, Hoke considers himself an "aviation geek" and loves every aspect of his job and what makes it special.
According to the official US Air Force website, to apply to be a pilot you must have the following: knowledge of theory of flight, air navigation, meteorology, flying directives, aircraft operating procedures and mission tactics as well as completion of Air Force Specialized, undergraduate Pilot Training, completion of a Single Scope Background Investigation (SSBI), and many more specifics. The process of becoming a pilot in any branch of the military including the Air Force is challenging, but there are many benefits.
    Meridian Aviation Center also offers training for Private Pilot Licensing that follows Connecticut's standards which are: you must be at least 16 years old, pass a physical from an FAA-approved doctor and be able to read, speak and understand English. FAA regulations require you to have a minimum of 40 hours of flight time to become a private pilot. However, the average for most people is between 60 – 70 hours. Flight training will include time with the instructor (dual) and without the instructor (solo). It will also include night training and flights to other airports in the surrounding area. They offer 
    Being a pilot is a flexible and ever changing job. Though it's not for everyone, it's a unique and beneficial career for those who aspire to fly in the sky.