How Soccer Has Been Affected Worldwide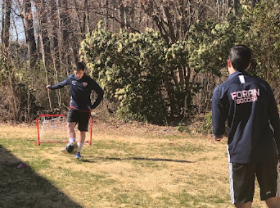 The Coronavirus pandemic has affected plenty of sports worldwide ranging from high school all the way through professional leagues. One of the main sports that has fallen into a large state of confusion is soccer. This is due to the timing of the postponement, as the sport was in the middle of its season for all teams involved. This has left unrest about how the season will conclude and receive closure.
       For many teams this was a breakthrough season and one to remember that has now become an emotional storm. The postponement of the season has left many questions unanswered about how the season will conclude and who will be crowned champions of their respective leagues. Recently two leagues have found out their fate with the Dutch and French leagues  becoming cancelled until September with the Dutch having no champion crowned. This brings worry for the fans of Liverpool, a team in the English Premier League who currently sit 25 points clear at the top of the table and were only 2 wins away from clinching the title for the first time in 30 years. The fans now worry that they will suffer the same fate as both the French and the Dutch and leave their record breaking season with nothing but what if. The manager of Liverpool, Jurgen Klopp is in different spirits and had this to say when asked by reporter from BuzzFeed David Mack about the pandemic, "Of course we don't want to play in front of an empty stadium and we don't want games or competitions suspended, but if doing so helps ones individual stay healthy– just one– we do it no questions asked."
       This pandemic not only affects the possible champions but it affects the teams at the bottom of the tables and those fighting for promotion to the bigger leagues. These teams that play in the lower divisions fight hard to get promotion to the top league which brings more publicity and tv sponsors to the club as well as providing the players with the capability to play soccer at the highest level they can. This not only affects the league they will be playing in but it affects the team financially as a result of the money granted for promotion. The money given to teams promoted to the English Premier League comes to a total of 170 million pounds according to consultancy.uk,which can provide the club funds to buy players, maintain their stadiums, training facilities, and keep their club running for a long time. This also affects the teams in the relegation zone but this comes at a slightly more positive note. Teams that were on the brink of being relegated to the lower divisions now have a second chance so to speak to fight and prove they belong in the top flight.
       The pandemic hits home hard with the players and staff of the teams but it also causes problems as well as opportunities for the fans at home. The cancellations of the sport leaves fans with a gap in their schedule, this hole can be hard to fill due to the regular day that came before it but it can also provide opportunity to try something new. The gap provides a chance for those who are heavily involved in watching the sport to expand their horizons and watch new shows on Netflix, watch old videos of a new sport in preparation for all sports to come back and have multiple options or even spend the time connecting with family members. A second positive to take from the pandemic for sports is the money they will save. According to independent.co.uk the average English Premier League fan spends 1,888 pounds watching a full season. With the season being cut off with just under a quarter of the season to go this will provide the fans family with more funds available to keep them going through the pandemic. Foran Student Nick Carroll is a fan of the sport and had this to say when asked about the season postponement, "It sucks not having soccer. I enjoyed watching the Premier League and other competitions. I miss watching soccer and other sports and hopefully soon enough we can all watch sports once again."