Benched for the Season
The CIAC officially cancels the 2020 football season for the fall
     As a result of the coronavirus, on September 16 the Connecticut Department of Public Health (DPH) informed the Connecticut Interscholastic Athletic Conference (CIAC) that 11-on-11 tackle football should not be continued this fall. 
     Friday nights are filled with exciting game play and loud cheers from the stands, not distanced hangouts and masked versions of fun. As school falls back in session, many return without their favorite fall sports, particularly football. The Connecticut Interscholastic Athletic Conference (CIAC) originally decided on September 3 that full contact football will not be happening in the 2020-2021 school year. From this decision, the CIAC later released in September that football is cancelled strictly for the fall, leaving the potential for a spring season up in the air. While athletes, families, and fans may be disappointed by the current call, the possibility of any season in the future sparks hope for the chance to play. With the chance of later announcements, students and parents across the district stand with each other to advocate for the ability to finish strong as real teams.
      The cancellation brought communities together in the fight for their season. Parents, siblings, coaches, players and more were all impacted by the decision. As a result, many petitions and rallies were created to share their voices. One prominent petition was the "Allow Full Contact 11 on 11 Football in Connecticut this Fall!!" created by Kevin Cavrell and Daniel LaRosa, Haddam-Killingworth High School football players. 
     When college players from the Big-10 (a Division I collegiate athletic conference that covers 10 college football teams) grouped up to create a petition after their season was cancelled, Cavrell and LaRosa became influenced to do the same. The Connecticut petition gained over 33 thousand signatures from everyone in the community. Cavrell shares, "We really didn't expect it to take off like it did, maybe we hoped for a couple hundred signatures. Fortunately we were way off."  The Change.org petition gained multiple signers who have written their own opinions on the cancelled season as well.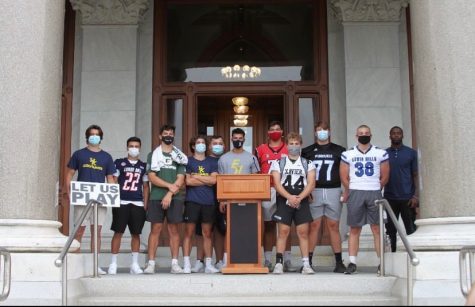 Commotion, excitement, anger, and many more energies filled the Connecticut atmosphere. Feeling like more voices needed to be heard, a protest developed. On September 9, an estimated amount of 1200 people made up of parents, kids, coaches, and more, rallied on the state Capitol building in Hartford preaching about their season. Football players from over 30 teams came together with signs and voices. As a result, Governor Ned Lamont called for a meeting between the DPH and the CIAC regarding the ongoing decision of the season which later resulted in the confirmation of the season being cancelled.
     Cancelling high school football for the fall is a decision that rests uneasy with several student athletes. Not only does the sport allow students to use teamwork skills to push their physical limits, it also creates a community of people that can put their energy towards a common interest and set aside their personal stressors. 
     Sophomore Reese Jasminski shares her feelings about the decision as a member of the cheerleading team. She says, "The cancellation of cheerleading has impacted me a lot because it took away my time during the day when I could take a break from homework and other stresses and just spend time with my teammates. Cheer is very fun to me and without it, I can't push myself and work towards my fitness goals." With all aspects considered, the decision to remove football as a fall sport this year negatively affects student athletes who rely on the sport for consistent training, and an outlet to destress from individual pressures. 
     The cancelled season for football players may potentially affect their scholarship and recruitment chances as well. Getting reels and stats from their play time is crucial for college scouters but when a season is cancelled, it becomes increasingly difficult. Cavrell shares, "…college recruitment is big this year for me and I'm sure many other seniors were banking on this year to get a scholarship." 
     As a football coach, teaching and motivating your players into having a positive outlook on their season could be difficult. Coach Tom Drew, the Foran Lions head football coach, shares, "I think most coaches were devastated to learn the news…that being said, as a coach you always want to send your seniors off with a season they can be proud of…our mindset as a program is we are going to control what we can control and when the time comes to play a game, we will be ready."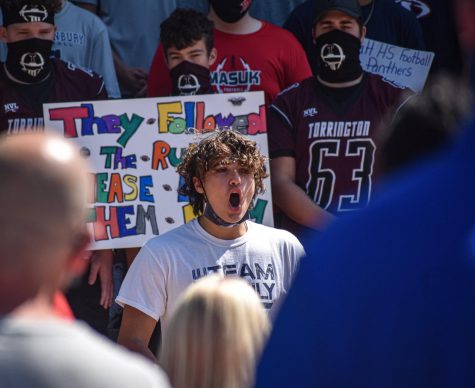 On September 29, the CIAC released a statement explaining the potential of having an alternative 2020-2021 Winter Season, a 2021 Second Semester Alternative Season, and a 2021 Spring Sports Season. Coach Drew shares, "…we are excited for the prospect of playing in the spring. Our kids have been working their tails off and deserve the chance to play, especially our seniors." The news of a season in the spring can lift hopes for everyone in the football community.