Celebrating Human Rights Day: Hitting the 70th anniversary in 2020
     Human Rights Day is celebrated on December 10, marking the day the United Nations General Assembly approved the Universal Declaration of Human Rights. 
     The Universal Declaration of Human Rights guarantees the legal rights of every individual. This act protects those no matter their nationality, place of residence, origin, sex, gender, or language.
     The United Nations declared in the Universal Declaration of Human Rights, "Everyone has the right to freedom of opinion and expression; this right includes freedom to hold opinions without interference and to seek, receive and impart information and ideas through any media and regardless of frontiers.¨ 
     The 2020 theme is: Recover Better. This 2020 theme relates to the Covid-19 pandemic and prioritizes human rights in recovery aspects. Covid-19 has increased inequalities, poverty levels, and the discrimination in health care. 
     The pandemic has greatly affected low income workers the most, causing poverty levels to increase. According to a study done by University of Chicago researchers, the low income families reported more job losses from February to the end of June than those with higher incomes. 
     "We are all in this together,¨ reads a statement on  The 2020 Campaign website. ¨From individuals to governments, from civil society and grass-roots communities to the private sector, everyone has a role in building a post-COVID world that is better for present and future generations.¨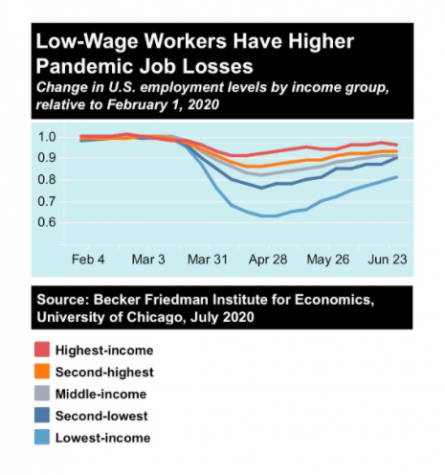 Ways to celebrate Human Rights Day include donating, attending events, and showing support. On this day it is encouraged for everyone to make a donation to any charity organization for human rights. Although this year is different, there are usually celebrations worldwide. And showing support for human rights is a large way to spread the theme, especially during the pandemic. This includes, posting online or joining online discussions.
     ¨Technology is a great tool to disseminate awareness on topics such as these and shine a light on the positive aspects of these events,¨ states Jaclyn Deloma, a history teacher.
     Despite all in person celebrations being cancelled due to the pandemic, individuals can still get educated on this topic from multiple websites about human rights. 
     The importance of Human Rights Day is described in three main points; the first being people deserve to be treated fairly, and with respect. The main point in observing the day is for every individual to promote their differences and still respect each other despite them. The second point is to remind people how much society has improved. Each year progress is being made towards equality, and it needs to be recognized. The last point is the promotion of unity, that despite individual differences we are all people. 
     Eleanor Roosevelt, a former First Lady, played a huge role in fighting for human rights. She worked with many other leaders including John Foster Dulles and George Marshall to create this declaration. 
     Roosevelt stated, ¨Where, after all, do universal human rights begin? In small places, close to home — so close and so small that they cannot be seen on any maps of the world. […] Unless these rights have meaning there, they have little meaning anywhere. Without concerted citizen action to uphold them close to home, we shall look in vain for progress in the larger world."