Scratch Baking: Eating Local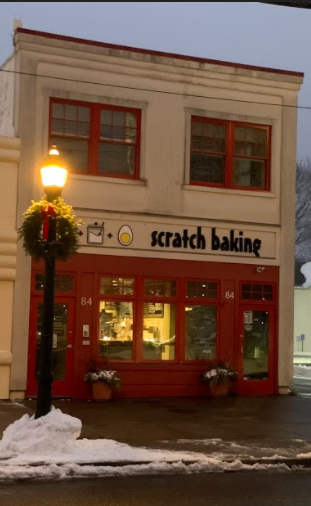 When hunger strikes, look no further. Scratch Baking is a small local business with a big heart. Located in downtown Milford, it's in the perfect location to satisfy appetites from 7am- 3pm Monday through Saturday. On Sunday, those with a sweet tooth can get their fix from 7am-1pm.
     Scratch employee Hunter Fonck, a senior at Law, began working at Scratch in early August. He says, "It's been a great experience." Fonck shares that his favorite thing about the bakery is, "…honestly, the people that work there. Everyone is super welcoming, and it truly feels like I'm part of a team. Even when I'm not sure how to do something I haven't done before, I always feel comfortable asking one of my coworkers for help." He likes their cinnamon rolls the best, but for those looking for a more savory option, Fonck recommends the ham and cheese on ciabatta. Even without the delicious treats, there's obviously something special about the bakery. Fonck states, "All around I've loved my experience at Scratch and I'm excited about what the future has to offer." 
     Leighton Whaley, a junior and previous employee of Scratch, also shares that he enjoyed the camaraderie he felt at Scratch. He says, "It's very much like a community where everyone is very welcoming. It's very fast paced and you need to be a very efficient worker but as long as you are doing your job you can have a lot of fun. Everyone is very giving and keeps the employees with a constant supply of baked goods and other foods." Whaley isn't the only one with a positive experience with Scratch Baking.
     Dr. Richard Garvey of Milford has enjoyed Scratch since its opening on River Street in 2010, and has remained a loyal customer even after it moved to the green. It holds a special place in his heart because he used to walk there with his dog and grandchildren. When asked how often he purchases from the bakery, Dr. Garvey says, "Too often!" He currently buys breakfast for himself and his wife two to three times a week. 
     Dr. Garvey is a big fan of their menu. He says his favorite items are "close to about everything!" but he's partial to the almond croissant, a flaky pastry filled with almond spread that appears occasionally on the menu for Fridays, Saturdays, and Sundays. Interested customers can place their orders online starting at 5pm an evening in advance, as the croissants are made early in the morning to ensure freshness and quality. A more regular menu item that Dr. Garvey enjoys is the mixed berry zucchini muffin, which he ensures is a delicious spin on a breakfast favorite. 
     The menu boasts many mouth-watering options, from sweets such as cakes and brownies to more savory options such as one of their sandwiches turkey apple and cheddar on honey flax or even a caprese salad. The bakery also offers a flourless chocolate cake, a fudgy wheat-free option for those with gluten allergies or celiac disease. At Scratch, there's something for everyone.
     As for the quality of food and service, customers attest to Scratch Baking's high standards. Scratch is a real community cornerstone. Dr. Garvey used to meet friends and neighbors at Scratch Baking frequently before the pandemic. He says that it still has a friendly atmosphere, and that everything continues to taste "fresh and homemade- you can really tell that they live by their slogan of baking simply by hand with 'butter, sugar, and an egg.'