Boys' Lacrosse Wraps Up Strong Season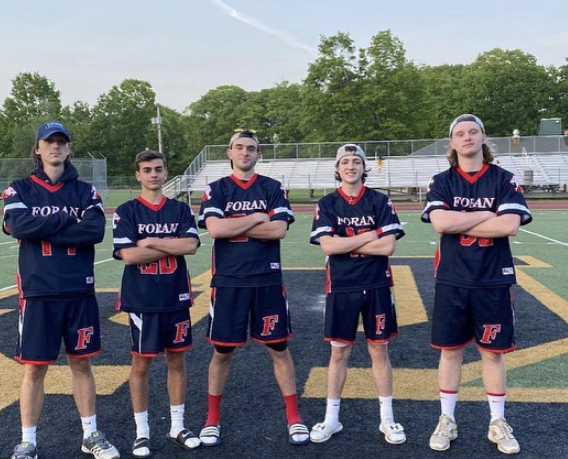 With the spring sports season ending, the Foran boys lacrosse team finished the season with a record of 7-8.
     This year's team featured five senior captains: Connor Elson, Christian Piscitelli, Devin DeMarco, Bryan Thompson, and Aidan Schumann. Missing last season due to the pandemic, the program was in need of a morale boost. 
     Head coach Brian Adkins has coached the boys lacrosse team for eight years and works the players hard every time they step on the field.
     Adkins says, "After missing all of last season, the players are so happy to be out there every day they don't need any additional motivation."
     Mathew Miller, a sophomore on the team, missed his opportunity to play his freshman year due to the Covid-19 pandemic. He had been looking forward to playing high school lacrosse for a long time, which he says is enough motivation. He was the team's starting face-off man, winning 137 face-offs at a 56% win rate.
     Junior Ryan French says, "My favorite part of playing lacrosse is the guys around me and the energy that is brought to every game and practice which makes it all enjoyable."  
     The team has been working together throughout the off-season to stay engaged. Junior Oliver Ardrey says, "I stayed motivated by taking extra time to work out and get in shape so I was ready for this season." 
     Another junior on the team, Owen McCabe, says, "I have no trouble maintaining motivation, it is my first year on the team and I get motivated from my desire to play the game." 
     DeMarco has had a passion for lacrosse that's been driven by his dad's family tradition since the age of five.  
     Following in the footsteps of his two brothers, DeMarco says, "Being a captain has forced me to walk into a role that I didn't know I could fill. I learned what it means to be a leader but also a teammate involved in all the aspects of the team."
     Being on the team is not just about staying active and doing a sport, it's about the bonds and connections they make with their team. Piscitelli says, "Being a captain has impacted my season because I am one of the role models that the younger players are looking up to for guidance and help teach the game."
     Despite all challenges, the team was able to come together for a successful season. Piscatelli adds, "One specific goal we set at the beginning of the season was to make the state tournament and we reached that goal eight games into the season." 
     Reflecting on the season, Adkins says, "For us to get in 32 practices, 16 varsity games, and 10 JV games was more than I expected." The boys' lacrosse team played last Friday, May 28 against Notre Dame West Haven at Veterans Stadium in the first round of the state tournament losing 10-4.