Breaking Boundaries
Female Athletes Changing the Game in Historically Male-Dominated Sports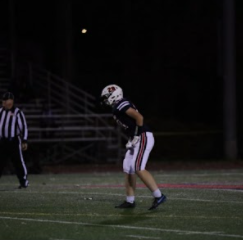 In recent years, the number of female athletes competing in traditionally male dominated sports, such as football and wrestling, has increased exponentially. This increase can not be directly attributed to the previous lack of female interest in these sports; it is likely a combination of sparked interest and more importantly, increased acceptance. 
     It is probable that the interest in playing traditionally male dominated sports among female athletes has always been high, but restricting societal norms and lack of acceptance in the community have discouraged many female athletes from competing.
     Many female students at Foran have gone out for these teams with the goal of competing in a sport that they enjoy, having little concern for negative feedback.
     Senior Sara Connelly's love and fascination for football as a child influenced her to join the Foran football team. The lack of female athletes on the football team was no concern for Connelly, who wanted to have fun and play the sport she loves.
     Connelly says, "When I first joined, I remember being nervous, but not about the contact or fundamentals of the sport. I was nervous about the way I would adapt and fit with the team."
     Everything Connelly hoped for happened, and she was welcomed on the team as just another athlete as she hoped. 
     Connelly describes her experience as "nothing more than perfect." 
     Witnessing other women both in and out of school environments striving for what they want, regardless of being a minority in a male dominated sport, is inspiring. Following interests and finding what brings happiness should be a priority for everyone, but some struggle more than others when faced with adversity.
     Female students who follow their interests despite conflict help lead others to do the same, opening a new door for female athletes that desire competition in male dominated sports. 
     Another student breaking boundaries in the athletic world is Kelly Aspras, a member of the Foran wrestling team. It's especially important for minority groups to feel represented through mentors, and Aspras is among those who look up to such figures.
     Aspras says, "If I had a role model it would be a girl named Jackie Smith. My first day she helped me, she taught me so much. She is an amazing wrestler. She is Division One at Sacred Heart University. She's amazing and I always looked up to her."
     Womens wrestling is a fast growing sport, and because of athletes like Aspras, the number of female wrestlers has and will continue to grow.
     According to Gary Abbott, media face of USA Wrestling, "In 1990, there were 112 girls who participated in high school wrestling. For 27 straight years, girls' high school wrestling has grown."
     Today, a total of 21,124 girls are involved in the sport in 2,890 schools, according to the most recent NFHS High School Athletics Participation Survey.
     For female athletes who want to further their athletic career in wrestling, there are currently 48 programs at the collegiate level for women.
     Connelly says, "I hope to see more girls come and play the sport they want without fear. I hope every woman takes pride in the sport they play, whether it's female or male dominated. Join a sport you love, because you will learn more about yourself as an athlete but even more as a person."