Valentine's Day Through the Decades
Taking a Glimpse at the History of a Beloved Holiday
     Valentine's Day has been celebrated since the year 496. This holiday has been annually celebrated on the 14th of February for about 1,526 years. 
     The holiday is associated with the colors of pink and red hearts, as well as all things surrounding the concept of love. It is also believed that Cupid, the Greek god of love, uses his arrow to strike the hearts of people. When they were struck, people would fall madly in love with the first person in sight.
     In the past, the masculine partner would receive less gifts than the feminine partner, but in today's modern society, it is common for partners to give gifts of equal significance. 
     Jeffery Raucci, Health Teacher at Foran, says, "As a millennial I think men receive the same amounts of gifts on Valentine's Day as women do. For the most part from what I've seen, both people in a relationship are pretty good at getting sentimental or thoughtful gifts for their significant other."
     The celebration of Valentine's Day is not reserved for just adults, or those with significant others; schools often incorporate Valentine's Day's activities for their students as well.
     Mrs. Patty Gonda, who celebrated in the 1950's remembers celebrating as the highlights of her teenage years.
     Gonda says, "We had dances all the time but Valentine's Day was so special. The gym was decorated and everyone got in the spirit, teachers too." 
     Over the years celebrations in schools of this holiday have been lost. But new traditions have also bloomed as well. 
     Mrs. Sheryl Friedman, who celebrated Valentine's Day in the 1970', says, "One of the clubs at schools sold roses, so that you could send it to a special someone. The roses would be attached to the lockers so you would get a surprise when you went to get your books." During the 70's, roses would cost from $1.70 to $2.02. 
     In elementary schools, children from the age of four to nine tend to celebrate this holiday with a candy exchange. Students come to school with Valentines for their classmates, as a symbol of their appreciation and love for their friendships. 
     Classrooms would throw parties and contribute festive snacks and desserts to their own celebrations. Chocolate has been a major part of this holiday. According to CBS News, "A box of truffles, which last year sold for $48, this year costs $60."
     This all-inclusive event is filled with hugs and laughter and teaches young students that Valentine's Day is about being kind and loving to everyone around them. 
     In middle school, pre-teens generally do not celebrate this holiday as much as they did at a younger age. It was far less common to see Valentines exchanged as the gifts developed a more romantic meaning. 
     High school students and young adults don't celebrate as much now if they do not have a significant other. If one does not have someone, some spend the day as if it's any other, while others go out with friends. But if one does have a partner they would normally go out for dinner and exchange little gifts either bought or made. 
     However, Valentine's Day traditions in the 2020's look quite different from celebrations in decades passed. 
     With the Covid-19 and the Omicron variant spreading like wildfire, the celebration of holidays has become challenging these past years. Rather than eating out for dinner at a nice restaurant, people are staying home. Others who can't be with their loved ones have adapted to using Google Meets and Zooms.
     Mia Coppola, a junior at Foran, says, "I am going to spend Valentine's Day appreciating my relationship. Even though Covid-19 is high right now, it makes this holiday even more important. Everyone should spend time with the person they love."
View Comments (1)
About the Contributors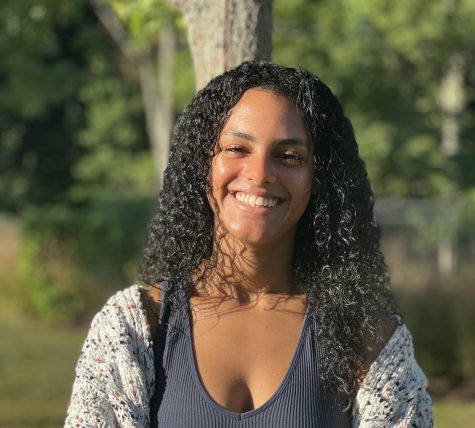 Melissa Santos, Co-Editor In Chief
Hi, My name is Melissa Santos and I am a senior at Foran High School. This year will be my third year in journalism and my first being Co- Editor in Chief....
Annabel Wardman, Online Editor
Hi! My name is Annabel Wardman and I am a senior here at Foran. When not busy working for the Mane Street Mirror, I enjoy sailing, reading, and spending...