Stepping Into the Future
A Breakdown of University Preparation
     In their final years of high school, Junior and Senior students are faced with the intimidating task of applying to colleges. Most students have a general idea of what the application process entails, yet so many students struggle with the application and commitment process. 
     The process is long and tedious, but it is far from impossible. If students plan in advance, stick to a schedule, and access the tools surrounding them, they should have no issues with the application process, nor the commitment process. 
Beginning the Search
     There are many steps high school students take in the time between their Freshman and Senior year. Freshman year students should take challenging core classes, talk to their guidance counselor about Advanced Placement classes, and get involved in community service. In addition, they should keep a detailed list of their achievements, academic or other, for their future resumes.
     It is always a good idea for sophomores to start taking practice tests for the SAT's. Classes are available for students at The First Choice College Placement, on 75 New Haven Ave, in Milford, CT. Along with tests they can start to develop a list of colleges and begin to consider tours. 
     In the fall semester, it is recommended that Juniors take the PSAT, so they can qualify for National Merit scholarships. In addition, the Student Search Service can be a helpful tool in researching schools. 
     During this year students should make an effort to visit college campuses in person. This provides students with an idea of small desires they seek in a college: the campus size, the population, the geography, etc. 
     Juniors should register for the SAT or ACT exams. It is also advised that 11th grade students research ways to pay for college, contact colleges for any additional information they want to know, and look for any scholarship opportunities.
Applying
     Juniors also should sit with their high school's college and career counselor to create their resumes for college. Aside from that, they can meet with their counselor to start their prompt essays on the Common Application app.
     The Common Application is accepted by more than 900 schools, including some colleges located outside the U.S. The Common App helps streamline an essential part of the admissions process for students. 
     Kensye Cocchia, a member of the Foran 2021 graduating class, is now majoring in business at the University of Connecticut. 
     According to Cocchia, "The most helpful thing during the application process was Common app. It made everything easily accessible and organized."
     Aside from connecting students with college it provides a series of essay prompts, which students can select and complete to their choosing. The Common App releases these prompts to each graduating class in the winter of their junior year; Common App prompts for the class of 2023 are now available.
     Mrs. Melissa Wunder, Joseph A. Foran High School's College & Career counselor, says, "A very important aspect students need to know is that the majority of schools require a supplemental essay… I think that's the biggest shock."
     Supplemental essays are specific to universities, meaning there is no master list. Colleges require additional writings from applicants, in an attempt to differentiate students. 
     "It's a surprise element, and that's why I recommend Juniors begin [the Common App essay] over the summer," says Wunder. 
     While students are in their fall semester, they should complete and submit college applications prior to their deadlines. For their spring semester though, they should consider the colleges from which they have received acceptance letters and start to balance their offers. 
Final Steps
     Although commitment lifts a massive weight off seniors' shoulders, there is still more to be done in the final months leading up to their first college semester. Seniors now face the stressors of purchasing books and furniture, finding a roommate if they make the decision to live on campus, and overall preparing for their newfound independence. 
     Larissa Santos, a graduate of Southern New Hampshire University, class of 2021, says, "Moving out was one of the hardest parts of this process. College is something you can never truly be prepared for." 
     Though college has it's up and downs, it's important to have a good support system. Whether that be a relative or a close friend. Having someone to talk to can make the transition from high school to college smoother.
     It is important to stay positive and take everything one step at a time. Some helpful strategies for students battling stress include creating to-do lists, making manageable scheduling, etc. For most students, the idea of living independently and beginning a college education is incredibly intimidating, 
     Santos says, "Don't give up, the first few months will be extremely hard… But do not stop trying, do not stop pushing, do not go home. Stick it out because when you reach your end goal you will look back and be thankful for not letting yourself give up."  
Leave a Comment
About the Contributors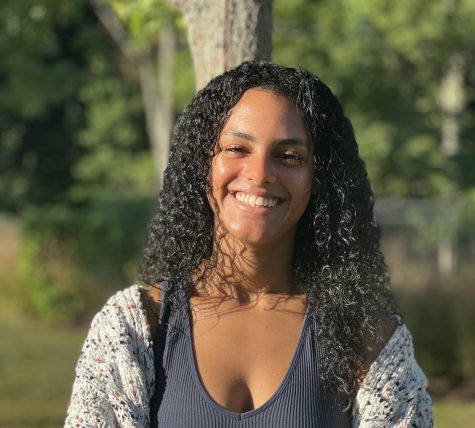 Melissa Santos, Co-Editor In Chief
Hi, My name is Melissa Santos and I am a senior at Foran High School. This year will be my third year in journalism and my first being Co- Editor in Chief....
Annabel Wardman, Online Editor
Hi! My name is Annabel Wardman and I am a senior here at Foran. When not busy working for the Mane Street Mirror, I enjoy sailing, reading, and spending...