Miss Emerald Isle
How the Irish Heritage Society Benefits Milford
     The Irish Heritage Society of Milford (IHSM) has been honoring Irish heritage for 16 years and has kept the culture alive throughout the town. Annually, the society honors a young woman of Irish heritage who has displayed honorable and selfless acts throughout the community, giving her the title of Miss Emerald Isle. 
     The society is a 501C(4) non-for-profit organization that is made to be exclusive to those of Irish descent. In order to become a member, an application process must be completed. On the application, Irish surnames and counties must be included, as well as all other required information, in order to be approved. 
     The Irish Heritage Society requires its members to pay a membership fee of $55 per year for people who are 18 to 64 years old or $50 per year for people who are 65 years of age or older. The individual must be older than 18 years of age to obtain a membership. 
     The Irish Heritage Society hosts meetings to educate members of Irish descent and celebrate the culture remaining within the community. The society conducts meetings, forums, and research regarding Irish culture. 
     As a long-term member of the society, former Miss Emerald Isle Emily Mager states, "The society puts together monthly activities to understand and celebrate Irish culture, members get together any night with storytelling, plays, and open mic nights." 
     The IHSM largely dedicates themselves to their involvement in the community. Their members generously contribute to the annual Milford Food Drive. The society works closely with Milford's Department of Human Services and provides families with needed items and Christmas gifts. 
     Since 2007, the Irish Heritage Society has conducted a memorial golf tournament in the name of Lyle James. With the money raised, the society allocates money to create three annual scholarships for members that are about to attend college. They use the remainder of their money to support local charities. 
     Miss Emerald Isle is a title that is given to the most active and deserving member of the community that originated in 1991. In order to be eligible for the position, the individual must be a member of the society and come from an Irish heritage, which must be stated on their application. 
     The application can be filled out through the society which contains a small essay portion, followed by an interview with the Hardimans who run the St. Patrick's Day Parade and former Miss Emerald Isles. Upon completion, the Hardimans and former crowned individuals will choose one of the applicants to be crowned as the new Miss Emerald Isle.
    Once a final decision is made, the winning applicant will be crowned as Miss Emerald Isle through a crowning ceremony and an extravagant dinner. The society hosts a large pancake breakfast to celebrate the accomplishments of their new representatives as well.
     Upon being inducted, Miss Emerald Isle represents the society and Irish heritage throughout Milford's numerous celebrations and tributes towards culture.
     Previous Miss Emerald Isle, Sierra O'Keefe explains, "One of the main things behind it is getting the opportunity to represent Milford in the St. Patrick's Day parade, as well as getting the chance to celebrate and represent the Irish community."
     In addition to the St. Patrick's Day parade, Miss Emerald Isle makes appearances at sponsored events, the Oyster Festival, Woodmont Day, Memorial Day, the Veterans Day parade, and the Irish Festival in September. 
     In addition to Milford's St. Patrick's Day, the IHSM participates in parades from New Haven to Mystic, and reaches as far as Yonkers, New York. They have also hosted Irish nights with the New York Mets, Brooklyn Cyclones, and Bridgeport Bluefish. 
     The title of Miss Emerald Isle comes with numerous benefits and exposure to varying scholarships. 
     From Emily Mager's personal experience she relays, "I would absolutely recommend applying to be Miss Emerald Isle because it looks good on resumes, whether you win or lose." 
     For more information on the Irish Heritage Society of Milford visit http://www.milfordirish.org/.
Leave a Comment
About the Contributors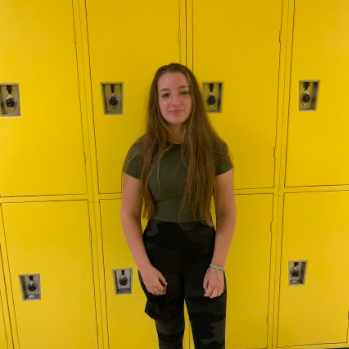 Kylee Payne, Staff Writer
     Hi! My name is Kylee Payne and I am a junior at Joseph A. Foran High School. I play lacrosse for Foran as well as two lacrosse teams outside of...
Fiona Ciambriello, Staff Writer
     Hi! I'm Fiona Ciambriello, a junior at Joseph A Foran High School. I am in various clubs including Key Club, Interact Club and ASL Club. I work...