Trendy Tie-Dying
       As time at home drags on, people are looking for new activities to keep them busy. Tie-dying clothes is a great way to change up your wardrobe and keep yourself and family occupied during the days of quarantine. 
       The fun thing about tie-dye is that there is not a right or wrong way to do it. Anything you create is your own and you can just get creative with it. There are many different methods to tie-dye as well, which broadens the creative ability when doing it. 
       There are many different ways to tie-dye your clothing articles and have fun with it. Senior Kalyn Cocchia showed that you do not just have to use the tie-dye that comes in the packages at the store and you can use appliances from your house.
       "I dyed my tank top with food coloring, vinegar, and water. I soaked the top in white vinegar for about 30 minutes to an hour and then mixed the food coloring with water in a water bottle. I used the water bottle to squirt the dye onto the top and let it air dry all day." Cocchia said she was happy with how her clothes turned out and will definitely do it again.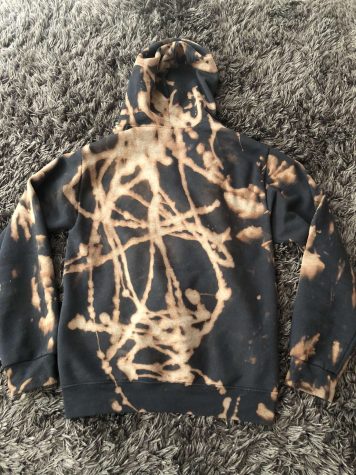 Junior Sam Lambert has also been spending some time during quarantine tie-dying. She says, "I would recommend people to tie-dye because it is a really big trend right now and doing it yourself can save you money rather than buying clothes that are tie-dyed." She has liked how her items have come out so far and will continue to do more as quarantine goes on. 
       Another alternative option when tie-dying is using bleach and water. Lambert used this method of dying as well. "I dyed a black sweatshirt using bleach and it created a really cool effect, you don't always have to use normal dye." 
       Junior Robin Jans also has tried out the bleach-dye method, "I have been doing it with bleach mainly, some things came out really good and some things came out bad, it all just depends." 
       As time goes on, try and head into your closet and see if there's anything you would like to try tie-dying. Cocchia says, "It's easy and a good way to pass time, you also get cute clothes added to your closet!"