California Wildfires Growing As We Speak
Dark conditions recorded in San Diego, California show some of the fires' extreme environmental effects. Chris Szefc can be heard commenting that it is 12:30 in the afternoon, despite the dark ominous sky. Video courtesy of Chris Szefc.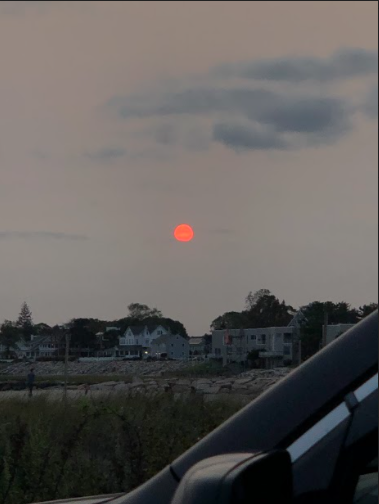 This year, multiple wildfires have ignited from California to Washington. The California blazes in particular are the worst that they have been in 18 years, burning millions of acres. While firefighters and first responders work tirelessly to protect whatever nature they can, the rest of the world is being affected as well.
These fires have been able to spread quickly and dangerously thanks to a variety of factors. According to Melissa Smith, the AP Environmental Science teacher at Foran High School, these fires can spread as a result of climate change which "causes longer and drier seasons which makes plants lose more moisture. Human activity and lightning can also contribute." Some of our actions are directly affecting the environment, which gives way to more ferocious blazes in our country.
This blaze has burned close to four million acres, as well as thousands of buildings and houses. As of now, the death toll is up to 31 people and over 200 more people are missing.
Aside from climate change, the harsh drought season has made it much more difficult to contain fires or stop them from occurring. The Washington Post writes, "after a blistering heat wave in mid-August and another record-shattering heat episode this month, the weather is poised to tip decidedly in the fires' favor." Scientists now expect an area of high pressure to form on the West Coast, which will maintain hot temperatures and allow fires to rage on. This will make it harder for firefighters to do their job, and the flammable trees and grasses will stay dry.
Overall, this is having a detrimental effect to the environment in California and across the nation, and a red haze has been cast over the West Coast because of the fumes and smoke of the fire. 
Chris Szefc, the cousin of Editor in Chief Mary Grace Weissauer, is a citizen of San Francisco, California. Because of their location, they are experiencing the first-hand effects of the wildfires. "It's noontime, but because of the nearby fires and climate it looks like it's nighttime", Szefc explains. These conditions have decreased air quality and drastically reduced visibility, as seen in the video. With winds carrying the smoke and smog across the United States, even the East Coast is now experiencing the fog. 
The fumes are harming the air quality of California and other states, and the air pollution can be harmful to peoples' health as well. Smith's suggestion to prevent similar issues in the future? "Trying to reduce our carbon footprint will help solve numerous problems." Doing so will reduce the severity of dry conditions and drought on the West Coast.