A Look Back: Milford's Annual Pumpkins on the Pier Temporarily Turns to Pumpkins on the Go
     Milford's traditional Pumpkins on the Pier event had to be modified to Pumpkins on the Go this year, due to Covid-19. Pumpkins on the Pier was a fundraiser held by The Boys and Girls Club of Milford. In past years families and friends gathered together to participate in activities, food trucks, and got to vote for their favorite pumpkin 'on the pier.'
     Pumpkins on the Go is the temporary annual Pumpkins on the Pier fundraiser. The board knew that Pumpkins on the Pier was not going to be a safe option this year so it was switched to Pumpkins on the Go. Typically the large pumpkin festival now became three prompt events which included a drive by pumpkin garden on Milford green, scavenger hunt for families, and the pumpkin passport.
     Sticking with the tradition of allowing the sponsors to create different pumpkins, they created wooden ones. Families were also able to download a free pdf off of The Boys and Girls Club website and visit participating restaurants/ businesses, where they can get pumpkin stamps that will qualify them for a raffle.
     Executive Director of The Boys and Girls Club of Milford, Megan Altomare says, "One of the main elements of Pumpkins on the Pier, in addition to being a fundraiser, is bringing families together in a positive way. We really wanted to keep that element, so we did a scavenger hunt for families to complete together." This was a very easy thing for families to do while remaining safe from the dangers of Covid-19. 
     Typically the Pumpkins on the Pier fundraiser attracts about 8,000 people in attendance, this year The Boys and Girls Club sold a few hundred scavenger hunts, and boo boxes to families. The boo boxes included candy and treats for the kids.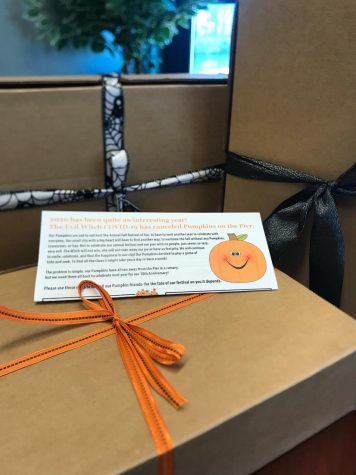 Altomare says, "With Pumpkins on the Go, the turnout was different compared to Pumpkins on the Pier, but it was still a fun way for families to have an option of something to do this fall."
     Every year the community votes for their favorite pumpkin design, this year they collected roughly 1,500 votes and there were three winners. First place was Milford Pediatrics, second place was Key Realty, and third place was Dawn Sullivan Real Estate. 
     Although the Milford community could not participate in many of the annual Pumpkins on the Pier activities, Pumpkins on the Go was a big success for The Boys and Girls Club.