Childhood Cancer Awareness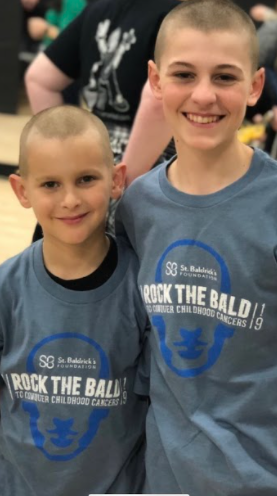 Cancer is among the top killers worldwide. Millions of people battle and fight for their lives. The agony cancer has on both the person suffering, and their families is heartbreaking.  
     Ryan Profetto, registered nurse(RN) says, "A lot of people don't know that cancer is the leading cause of death by disease for children in the United States. According to https://nationalpcf.org/facts-about-childhood-cancer/ , Only 4% of federal cancer funding is directed towards pediatric cancers, which is not a lot compared to the fact that one child a day will get diagnosed with cancer in the U.S."
     It is important people are educated on cancer and how certain things can make you more susceptible to cancer , although it is frequently not in one's control. First, people must frequently go to the doctor for health screenings and exams to check their well being. The American Cancer Society says, "If cancer is found early, it can be easier to treat. Survival also tends to be longer for those with early cancer. Talk to a health care provider about which screening tests might be right for you."
     Profetto speaks on signs that might lead a doctor into thinking a child may have cancer; he says, "Leukemia is the most common childhood cancer and a lot of kids will come to their doctor or the ED because they bruise very easily, are very tired and pale, or have infections. This is because their blood has so much Leukemia that there is no room for regular cells. The other cancers kids get are solid tumors, and those present as pain in the area they are growing or the organs they affect stop working."
     Mom Christina Honcz of cancer survivor Joey Honcz says, "Joey's diagnosis came after many, many weeks (almost six) of him being unexplainably ill." Those who do come down with cancer are not the only ones affected. 
     Once the Honcz family got the news their son had cancer, Christina stated, "It was put your positivity hat on and full steam ahead for what the treatment plan was moving forward." People surrounding them in their everyday lives were also considerably affected. Christina Honcz says, "Well, to say there was a range of emotions when we heard the words, 'Joey has cancer' is an understatement." Honcz talks about how she had the constant thought of, "what if my child is the one the treatment doesn't work for" and "why my child."
     Unless you are put in this position, no one will ever understand what it is like. Lisa Howell, mom of cancer survivor, and Foran alumni Zachary Howell, graduating class of 2013 , explains, "Seeing my son, terrified of the idea that he had cancer, broke my heart. Everyone who surrounded him tried to do everything we could to lift him and give him positive vibes. Through regular treatments, we tried distracting his mind in every way possible. Not only was my son affected, but his friends and other family members were too." 
     Christina Honcz explains, "we had to move past those emotions quickly though to focus on being relieved that it was cancer and the plan moving forward to get through this and to get him better."
     As a parent, family member, or friend of someone being affected by the news that your loved one has cancer, it is crucial to remember to keep the patient in good spirits. Honcz says, "when you are diagnosed with childhood cancer, any sense of normalcy goes out the window. Joey missed the entire second half of his fifth-grade year- school, lacrosse season, and friends." Being a young kid with so much going on in your life is extremely hard to deal with. Helping to keep a child in good spirits is also very hard when they are forced to give up doing what they love and what keeps a child going.
     Many people stepped up for the Howell family and tried raising awareness for this family by participating in fundraisers. The Howell family sold bracelets with Mike's name on them for financial support to help pay medical bills and bring good spirits.
      Similar to that of the Howell Family, Honcz discusses, "raising awareness for pediatric cancer credit goes to all of our friends and family who supported us and did things like having t-shirts made and selling them along with bumper stickers, pencils, and bracelets." The hashtag the Honcz family had at the time was "#teamjoeyhoncz." She then states, "I believe their goal was to support us; I believe it also served to raise awareness in our Milford community for pediatric cancer."
     September is Childhood Cancer Awareness month; the corresponding color to this is gold. Honcz helps raise awareness during this month by lighting up her Facebook page with gold and posts facts about childhood cancer to educate people. Every year Joey shaves his head for the St. Baldrick's foundation. The foundation raises funds that go to the Children's Oncology Group. (https://www.stbaldricks.org/) Joey was the number one fundraiser for several years for this event. "Joey was a part of a drug study through the COG during his treatment." Joey's sister, Emma Honcz, sold lemonade at a lemonade stand at the first Foran home football game. All of the donations they got were donated to Alex Lemonade stand. (https://www.alexslemonade.org) 
     Creating events, organizations, and fundraisers help to educate people on childhood cancer and also raise spirits for both patients and people in their lives affected. 
     Being a parent undergoing this real-life nightmare that no parent wants to be faced with, Honcz says, "we tried to keep his spirits up by communicating to him that while it would seem like the worst time ever in his life and an eternity while going through it, he would get through it and it would seem like just a blip in time once he was past it. We tried to remain positive even on the worst days when all we wanted to do was cry." 
     Building off of Christina Honcz,  Profetto says, "The advice I would give to parents and their families when their child is diagnosed with cancer is that it's going to be a long and challenging road ahead. Some cancer treatments can last up to three years. It's essential for people to reach out to their support system because it's impossible to do alone. I think caregivers should also know that they will have to learn a lot about their child's disease, so they know how to keep their kids safe when they are home."