The Start of Something New
Students Start Business at a Young Age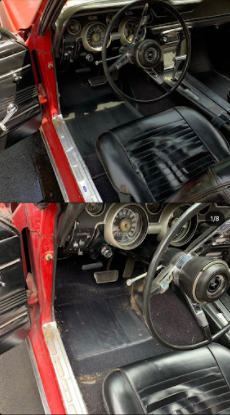 Many students admire the idea of starting their very own business but they are not sure how or where to start.Whereas Foran graduates (class of 2020) Malcolm Chavez, Prabhjot Singh, and Stavros Kikis knew from the start where their interests were and  "RPM Auto Detailing" began.
     In their junior year, 2019, high school friends Singh and Chaves knew what they were passionate about and their business for cars became reality. Singh, the founder of  the idea, brought it to Chaves and they instantly became partners.
     Chaves states, "PJ asked me one day to help him detail a car and said we'd split the profit. Immediately we both fell in love with it but we didn't officially want to do the business because it wasn't really well known to us." 
     In the end, the boys decide to push aside the fear and obstacles and pursue what they love to do. Creating layout and ideas, is something  the boys have always found an interest for; Chaves has the role of interior specialist, Singh is the owner, founder, and exterior specialist, and Kikis is another exterior specialist.
     Singhs advises to "Be fully invested in your business and craft, don't ever get too attached to money.  Focus on the bigger picture which is to live life on your own terms and escape the classic 9-5 job trap."
     A few months into their idea they decided on making it a three way partnership with Kikis, because of his passion for cars. He didn't view detailing cars as a job, instead he found it very fun and interesting. 
     Kikis states, "Get your name out there and when you see an opportunity you take it even if they don't come to clean their car." 
     Starting a business can be very tough and stressful. Businesses want to guarantee they are offering the best service. Many students are not sure where to begin or how to even start the process of starting a business. The boys took a business and entrepreneur class that influenced them heavily on the idea of starting a business, their business teacher, Mr. Frank Balestriere says, "In terms of starting a business so young, I don't think there is a better time. It is while you are young that you have freedom from responsibilities allowing you to take the risk of starting a business. Young entrepreneurs also learn invaluable lessons through an unparalleled experience." 
     Pricing differs depending on the size of the car and can usually take up to 2-4 hours depending on how much cleanup needs to be done. Singh says, "The base price for a sedan is $130. Suv $150 and pickup trucks are around $200 but it really depends on how dirty the vehicles are for the time and price."
     All of their hardwork has paid off as they have started to gain some business. RPM puts in a significant amount of effort while cleaning car's and will ensure your car the best care. Jen Ruane, a customer of RPM, says, "I highly recommend RPM, they did more than I was expecting while detailing my car and it looked amazing after. I was extremely impressed with their efforts."