Serving Their Way Through the Season
Girl's Tennis Wraps Up After a Challenging Year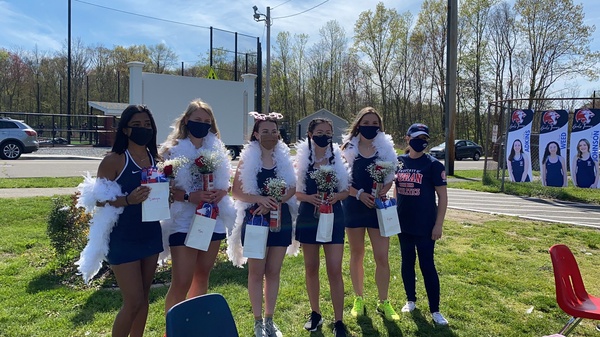 A hard backhand and the ball is flying to the other side of the court, and it's match point. The crowd goes silent waiting to see who will gain the winning point. Despite missing their last season, the 2021 girls tennis team is determined to push towards victory this season as they keep practicing to improve their skills.
     Coach Missy Kaminski states, "The team loves the fact that we are back on the courts this season.  It was tough not being able to play last year, but we are pushing through the season and improving our skills every chance we get." 
     This year, there are five seniors: Kaitlyn Adkins, Tori Lanese, Daniya Chopra and two senior captains: Devyn Weed and Kyra Johnson. 
     Devyn Weed says, "We mostly talk at the tennis matches and practices. Playing against each other is always a good way for us to bond as well." 
     The girls current record is 0-15 In 2017-2018, the team played in Division 2 and succeeded, now bumping them up into Division 1.
     Weed states, "The season is challenging. One of the obstacles was learning new players since most of the team graduated." Kaminski encourages players to work on their skills during their matches and at practice.
     Sophomore, Sarah Money, new to the team but not tennis, states, "Being on the team, I have been able to become friends with people from other grades and it provides something fun to look forward to."
     With Covid-19 it is harder to make friends, but by being on the team, Money had an easier time doing so. 
     The girls tennis season is coming to an end. Their last match is Wednesday, May 19 at 3:45 at home, where they will take on Daniel Hand.