Spooky Spotlight
How Shelton's Legends of Fear Spooks the Connecticut Community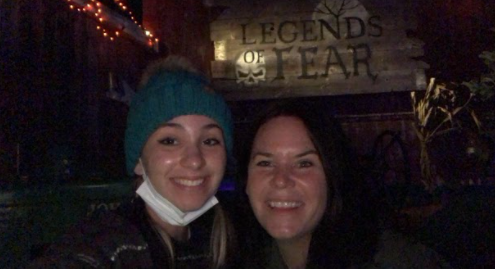 October is the time to scream. With Halloween just around the corner, many are searching for spooky activities. Fun for all ages, Legends of Fear in Shelton is one of the most popular haunted trails in Southern Connecticut.
      Legends of Fear offers numerous events that all can enjoy. In store for this year is their infamous Haunted Hayride, celebrating 25 years of scares. During this attraction, people are pulled further and further into the forest until only clown laughter and chainsaws can be heard. Shelton's Legends of Fear also provides an original "Hallow Trail", which features multiple different walkthroughs.  
      Some of these attractions include the Hemlock Manor Mortuary, the Pine Hills Parish, the Dark Harvest, and the Fun House of Fear. All of the titles have a significant connection to the type of fright the customer is in store for.
      All of these thrills include different types of walkthroughs within their haunted forest. These walkthroughs take place in a real farm, with a real forest, and produce real fear.
      Senior Skylar Rowe has gone to this community event several times in the past. Rowe says, "It's a blast. I love the haunted walk through. Also, the actors are great and overall it is a great Halloween activity." Rowe plans to attend this spooktacular event again this year.
      English substitute teacher Nicole Daly states, "I went last year with my husband and 13 year old son.  It was awesome.  It was definitely a fright, the decor was fabulous as well."
     Legends of Fear also offers a family friendly event for children. Spooky Night Lights has no scary actors, just sights, lights, and sounds. This event will be available on October 14 and 21. It costs $25 individually or $80 for a family four pack. 
      Senior Emma Fiorillo visited Legends of Fear last week with her mother. She has been enjoying this attraction for 5 years. She states, "I love halloween so Legends of Fear is always something I look forward to visiting every year."
     If you love a good scare or just want to have some fun with friends and family, Legends of Fear will be open Thursday, Friday, Saturday, and Sunday nights until October 31. Stop by at 2 Saw Mill City Road in Shelton for the fright of your life.