Rainbow Garden on "Chopped"
Madison Whitaker
Staff Writer
"You've been chopped." That phrase instills fear in many chefs. One of Milford's favorite restaurants will be on the famous TV show, Chopped, Tuesday, December 15 at 10pm. Yup, Rainbow Gardens will be on that show. Chopped is a very popular TV show about people from different restaurants competing against each other to see who can make the best dishes. The show is judged by famous chefs, such as Aaron Sanchez, Chris Santos and Marc Murphy and is hosted by food critic, Ted Allen.
Chopped first aired in 2009 and has more than 300 episodes in their collection. It is a very popular show which has more than 1 million viewers. The Food Network also has other shows that are spin offs of Chopped called Chopped Juniors and Grillmasters. The owners, from Rainbow Gardens, decided to apply to be on Chopped and has brought Heather and John Profetto, and their kids, Kate and Ryan, to compete for the $10,000 prize!
I asked Heather how she got into cooking. "I decided to not go to college right away, so I decided to go to culinary school at High Park, in New York," said Heather.  
John explained that they would always drive by and notice a for sale sign (at their current location) and decided to check it out and eventually bought it. Now we can seat up to 100 people; before this became a restaurant, it was an Inn and it had three bedrooms so we thought that we should re-do it." Heather had always wanted to own her own restaurant because  "you don't always want to work for other people so you go to culinary school and go from there."  Heather and John Profetto have owned Rainbow Gardens for over 21 years now.
They are both excited to be on Chopped. Heather said, "We called them a long time ago, but never got on, but then, they called us and said "Would you like to be on the Family Edition?" and we said "Yes" and we were excited about it."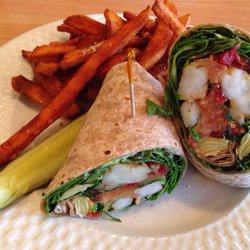 This is the first time a Milford restaurant has ever been on Chopped. If they win, this will be an incredible opportunity for Rainbow Gardens and will increase their business popularity. No matter what the outcome, Rainbow Gardens will win in the end. This show will bring their restaurant to the next level showing viewers what Milford is made of.
Don't forget to watch it and support your community. Chopped  airs on Tuesday December 15, at 10 p.m on the Food Network channel. Good luck Rainbow Gardens!
Leave a Comment