A Closer Look Into the Foran Football Team
Julia Silvestri
Staff Writer
The boys on the 2015 Foran High School Football team are walking around with their heads held high and a feeling of success. With a current record of 6-2, these young men have never before been predicted to have such a successful record, and to be this close to the playoffs. With seniors Luke Edmondson, Colin Firmender, Mike Howell, and Noah Hubler leading the team, the boys have managed to start off the season with a 5-0 record beating Branford, Sheehan, Guilford, Lyman Hall, and New London. After suffering a tough loss to West Haven for their Homecoming game, they came back with a win against East Haven. This past weekend, tears were shed after a hard-fought loss against Hillhouse.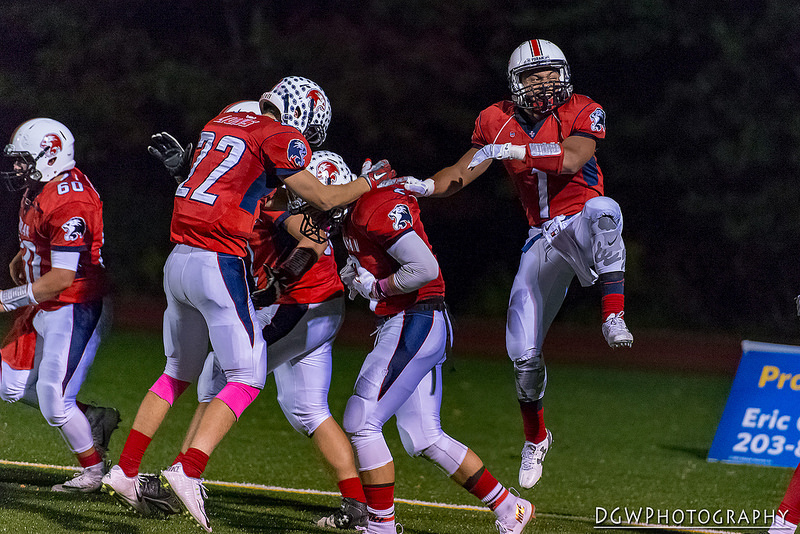 The boys on the football team have not made the playoffs since 2001, and before that, 1994, when they beat Daniel Hand to win the State Championship. Captain Firmender states, "This year we were given an easier and better schedule than past years, giving us a better chance than ever to make the playoffs. We've played well throughout the season and now we are in a position where the playoffs are in our reach, something we see as a huge deal for us." The boys' playoff run is technically not over yet.
Making playoffs can depend on not only their record, but other teams too. If they do win another game though, playoffs definitely seem within reach for them. They play the Eagles of Law on Thanksgiving Day on Law's turf. Good luck boys.
It might be hard for some to compete on the field without their fellow brother, captain and starter, Howell, despite that Edmondson stated, "Regardless of Mike's injury, he's still a great leader and role model for the whole team." Howell tore his ACL during the Lyman Hall game and was declared injured and deemed unable to play sports for the rest of his high school career. Though he stands on the sidelines on Friday nights watching his brothers play, he still attends every practice, and is still a huge part of the team.
Twelve year football coach, and six year Foran coach, Jeff Phelan, says this year sticks out more than others for numerous reasons. "Losing a three time All-State quarterback, left us with a lot of doubt and uncertainty for that position. Junior Lance DiNatale is making his own mark on Lions football history. He's taken over this role and is doing better than ever expected." Phelan has been coaching many of these kids since Pop Warner and is well aware of their strengths and weaknesses. Many of these boys have grown together both as athletes and as people. We wish them the best of luck though the rest of their season.
Leave a Comment