Julia Wargo
Staff Writer
Boys Ice Hockey

Last year, the boys were very successful in qualifying for the state championship and advancing to the first round. Hoping to follow in those footsteps, the boys are welcoming new players and engaging again with the returning players. The Milford Indians hockey team spreads wide as it consists of players from Joseph A Foran, Jonathan Law, and Platt Technical High School. Sophomore Jason Lavallee said, "Our goals for this year include filling the holes left in the team and adapting to new circumstances in order to exceed last year's hockey team." The Indians this year hope to improve in off-ice conditioning and early morning practices (which we all know can be tough to wake up to). "These two things are beneficial to our performance throughout the season though," Lavallee adds. We wish the Milford Indians the best of luck in their season!
Gymnastics
After losing essential captains to last year's gymnastics season, senior captain Erica Hanson hopes to make this year much more successful. Although having multiple loses against tough teams, Hanson and the rest of the Lions' Gymnastics Team are willing to give all of their effort to make this their season. "As a team we want to welcome the new freshmen and make them feel like they belong here," Hanson says. Team bonding becomes crucial as it helps the team get to know one another better. We wish the best of luck to the Lady Lions and the seniors as it's their last year being on the team.
Wrestling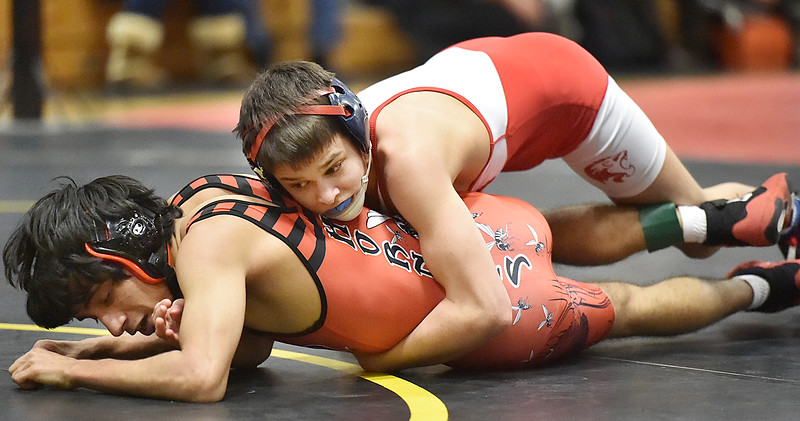 The Lions' Wrestling team's season last year was pronounced most successful in Foran history. Their record held at 27 wins and only 4 losses. Along with that, the Lions finished in second place in the Southern Connecticut Conference, and second in the Class M State Championship. With a lot on his shoulders this year to keep up that Foran record, junior, Gino Esposito adds, "If we work hard and improve every day, we could be SCC and Class M champions, and in the top five at opens. We need to do all the little things right as a team and stay disciplined in our training." This year, mental toughness is really going to help them win some close matches and push through adversity. Training is also crucial and knowing when to go hard or layoff is a huge part of wrestling. This year, Esposito wishes that the team gets closer and becomes more of a family. "People don't just wrestle for themselves; they wrestle for their team and I think that's going to help us out a lot this season."
Boys' Basketball
Although having a rough season in the year 2014-2015, the boys of Foran Lions varsity basketball hope to redeem themselves in the upcoming 2015-2016 season. Last year, a remarkable game was one against cross town rival Jonathan Law. Foran had done an outstanding job in defeating the Lawmen in which was a very close, nerve-wracking game. Junior Mike Sciuto adds, "This year an important game is the season opener against Lyman Hall. If we play well, it can make an output on the rest of the season. And as we all know, the games against Law are very important too." Sciuto says on behalf of the team that they hope to improve this year in winning games and playing each game with hard work and lots of effort from the first blow of the whistle to the last sounds of the buzzer.
Girls' Basketball
Last year, the girls' basketball team fought hard and put in effort to make themselves have an efficient season. In the upcoming season, the girls hope to bounce back to the court and come out on top to prove their skills and give a name to the Foran Lions Girls' Basketball team. Victoria Savoca, senior on the girls' team, says, "This season we are really going to try and work together more and improve our team chemistry and bonding. This will help us on the court during games." The Lions hope to beat cross town rival Law during the games against them, and wish to win more games and improve their record. Best of luck to Savoca and the rest of the girls on the court this year!
Indoor Track
This year in the indoor track season, the seniors wish to end their final year on a good note that will also involve new records. The indoor track team is not set on having one single most important meet; their biggest focus is on the State Championship. Considering close to half of the team made it that far last year, they're hoping the other half of the team would be able to qualify this year. Senior, Bobby McGinnis adds, "I think the main goal of this year is to prove to others that we care about this sport and build this program's name." With less than a couple months, the indoor track team is hoping they can achieve these goals. We wish the best of luck to them in this year's winter season.
Boys' Swimming
Last swimming season, the boys held a successful record of winning nine meets. This record was the best they have had in a while, senior Drew Corsi said. "Our most important meet this season would have to be against Daniel Hand; they are the hardest in the Hammonasset division and we are trying to maintain a solid reputation within that and the SCCs." The boys swimming team is looking to improve their record and striving to get that tenth win this year. We hope to see the boys improve in and out of the pool this year, and we wish them the best of luck in achieving the tenth win they want this year.