LaCross(e) Fit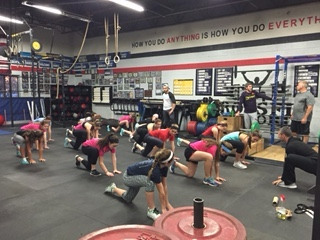 Shea Phelan and Eva Knudsen
Staff Writers
The Foran Girls' Lacrosse team is putting in work to prepare for the 2016 season. The Lady Lions have been prepping for the season since mid-October participating in Indoor Lacrosse at the CFC Arena in Hamden. The girls' then took part in CrossFit Milford in late November.
Many people within the Milford Community, including Mr. Raucci and Mr. Derosa, engage in going to work out with the trainers. Many freshmen, sophomores, and a few juniors have been lifting weights and conditioning for almost 4 months, while Foran's crosstown rival has only been a part of Crossfit Milford for a short 3 weeks.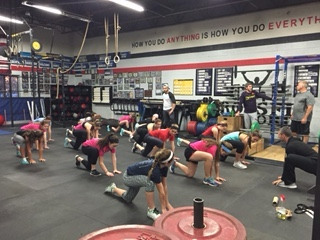 Sam O'Neill, a freshman, has been hooked to attending classes since she first started in the summer for a way to get in shape for the volleyball season. Both she and her sibling are proud members of the weight training. O'Neill says, "I wanted to start CrossFit because my friend had introduced it to me and I wanted to try something different. I knew that this workout place was a different type of gym and that's what I needed to get ready for the lacrosse season."
CrossFit consists of interval and weight training. The good thing about it is every day there are new workouts so people are always learning a new exercise. For the girls, they work on lifting for the first part of class and then conditioning during the second part. The last fifteen minutes are usually set aside for high intensity training.
Mr. Connors, science teacher and lacrosse coach, says, "It's (CrossFit) going to offer the girls the opportunity to work independently and take responsibility for their own fitness." Connors adds, the season hasn't started but I'm praying CrossFit has helped.
Leave a Comment