Foran Girls Make a Splash at Class S States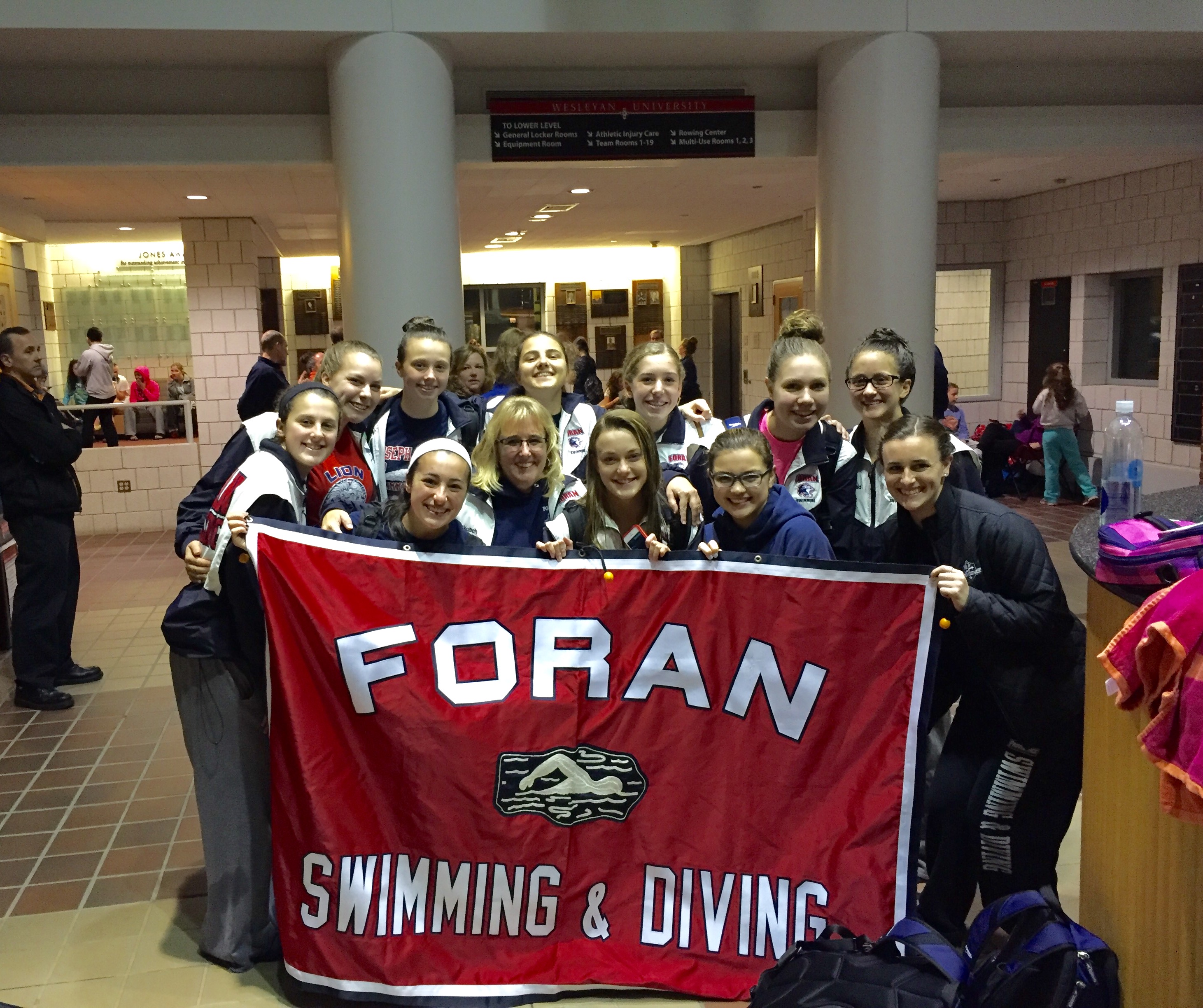 The Foran Girls Swim Team has made a splash in both the SCC and Class S this year. With a record of 7-5 the girls were ready to take Class S states by storm. Coming out of SCC Championships the girls had two SCC Champions, Sarah Fitzgerald and Emma Longely, and several girls qualify back from trials to finals. Emma placed first at the SCC Diving Finals and Fitzgerald place first in her 100 Breaststroke. Sarah was also named SCC Athlete of the Year. The 200 Free Relay team of, Erica Hanson, Hannah Buckley, Sarah Fitzgerald, and Ava Corsi, broke the record of 1:49:26 with a blazing fast time of 1:47:98.
On Saturday November 16, the girls participated in the Class S State Trials at Plainville High School. While the meet was slow and lasted several hours the girls hung in and most of them got best times. Junior, Nicole Eschweiler, made it back to finals in the 200 Freestyle, Junior, Sarah Fitzgerald, made it back in the 200 IM and, along with Erica Hanson and Sophia Troanska, the 100 breaststroke. Emily Sportini made it back in the 100 Backstroke and along with Ava Corsi who also made it in the 50 Freestyle, the 100 Freestyle.  Hannah Buckley and Caitlin O'Halloran also made it back in the 400 Freestyle Relay along with Emily Sportini and Nicole Eschweiler. The record breaking 200 Freestyle relay team of Hanson, Buckley, Fitzgerald, and Corsi also made it back in 4th place. To start off the meet the Medley Relay, also a two time record breaker, of Sportini, Hanson, Fitzgerald, and Corsi made it back.
The girls had an amazing meet at State Finals as well. Ava Corsi broke both the 100 and 50 freestyle records. Sarah Fitzgerald broke the Breastroke and the Individual Medley record as well as placing second in her 100 Breaststroke to earn All State Honors.  The 200 Freestyle Relay of Hanson, Buckley, Fitzgerald, and Corsi not only broke their previous record by over two seconds but also placed first, earning All State Honors. "None of us could believe it when we saw Ava touch the wall. We didn't know that we won it until we looked at the board. It was such an incredible feeling," says senior captain, Erica Hanson. Emma Longely placed top three at the Class S Diving State Finals earning her All State Honors as well.
The 200 Freestyle Relay team earned the 24th spot at State Opens and will go on to participate in the meet on Saturday November 21st at Yale. Sarah Fitzgerald placed 23rd overall in the state in her 200 Individual Medley and 11th overall in her 100 Breaststroke. Emma Longely will also go on to State Opens for diving. Head Coach, Kristin Skuches, along with Assistant coach, Meghan Condon, is elated and so proud of their team for working so hard and listening to their advice this season. Good luck Lady Lions and congratulations!
Leave a Comment